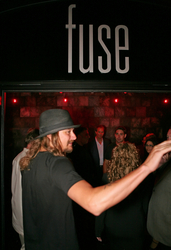 I'm looking forward to deejaying here tonight. I started out as a D.J. when I was ten years old it's always fun to grab the decks and kind of take it back to where it all began
Nashville, Tenn. (Vocus) July 14, 2008
It was a first for Nashville: Kid Rock spinning in the DJ booth with an eclectic crowd of celebrities including Kim Kardashian, Danielle Peck, Trent Tomlinson and many more. Kid Rock's tech-savvy talents electrified the A-list crowd at the South's landmark resort, Gaylord Opryland, where the new nightclub Fuse opened with a huge celebrity bash that ended just hours ago on Sunday July 14, 2008.
"I'm looking forward to deejaying here tonight. I started out as a D.J. when I was ten years old it's always fun to grab the decks and kind of take it back to where it all began," said Kid Rock. "Hopefully I can bring my sisters back to Fuse nightclub. It's amazing. It's a lot of fun," gushed Kim Kardashian, TV celebrity.
Some of the other celebrity red carpet walkers included singer Nick Carter, Lone Star's lead singer Cody Collins, American Idol Finalist Diana Degarmo, American Idol songwriter Reggie Hamm, country star Ty Herndon, songwriter Jeffrey Steele, HGTV's "Sparkle" Josh Johnson, members of the hot new country trio Lady Antebellum, singer-songwriter Holly Williams, a cadre of Tennessee Titans including, kicker Rob Bironas and Miss America 2004 Ericka Dunlap.
"To have this scale of a club -- this ritzy, glamorous club, it's what this town has needed. This town has always been like L.A. without the tan. Now we've got the tan," said Trent Tomlinson.
Fuse Chef Jason Kroll's Global Street Fare kept partiers energized with Kobe Gyro Sliders and Skewered Shrimp Corn Dogs with Mustard Aioli plus Chocolate Sea Salt Truffle Pops.
The Fuse opening party set the pace for the club that is a Nashville first, designed by international nightclub architect Jeffrey Beers to be a red-and-black "oasis of sensuality." The 14,000 sq. ft. Fuse includes reactive imagery, sexy go-go dancers, a misting vodka locker featuring more than five dozen top-shelf brands and "experience cocktails," restrooms with see-through panels and VIP coves with concierge service.

http://www.fusenashville.com
About Gaylord Opryland Nashville
Gaylord Opryland Resort & Convention Center – the largest non-gaming in-hotel facility in the continental United States – is known for providing superior products and services to the meetings and convention industry. Winner of numerous prestigious awards including the coveted Gold Key Elite Award in 2002, 2003, 2004, 2005, 2006 and 2007and Gold Platter Elite in 2004, 2005 and 2006, Gaylord Opryland Nashville is the flagship property of the Gaylord Hotels brand owned by Gaylord Entertainment (NYSE: GET), a leading hospitality and entertainment company based in Nashville, Tenn. For more information, visit http://www.gaylordentertainment.com or http://www.gaylordopryland.com.
Media Contacts:
Kim Keelor, (615) 458-2877, kkeelor @ gaylordhotels.com
Jeff Zimmer (615) 458-2873
###