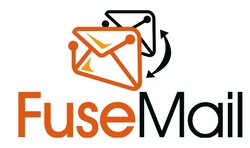 Outsourcing the archival of your email makes a lot of sense to many small and large businesses alike. Many businesses would rather focus on moving their company forward and not worry about archiving electronic communication
Kansas City, Mo. (PRWEB) August 12, 2009
FuseMail, LLC -- a leading provider of hosted email solutions -- announced today a new hosted email archiving service coming in September 2009. The archiving service copies all of your email and IM communication in real-time to two datacenters in different cities for permanent storage.
Many US businesses are required by-law to archive electronic communication, especially those in the financial and healthcare industries.
The service will feature:

Search index for your archived documents
Multi-user control with the ability to give restricted access to a accountant or attorney
Email and SMS alerts for detection of data leak, or words of interest in your industry
Compliance monitoring, making sure your service is working and data is being archived at all times.
The service will launch initially in September to all FuseMail hosted email hosting customers, but will soon become available to users of MS Exchange and other email server products.
FuseMail co-locates in three world-class datacenters located in San Jose, CA, Washington DC, and Kansas City, MO. "Outsourcing the archival of your email makes a lot of sense to many small and large businesses alike. Many businesses would rather focus on moving their company forward and not worry about archiving electronic communication", commented Bryan Heitman, President of FuseMail.
The addition of the email archiving service to FuseMail's already strong suite of hosted services makes FuseMail an great choice for many businesses. Webhosting companies and ISPs can also private label FuseMail's suite of services with their own logo and color scheme.
About FuseMail, LLC
FuseMail is an innovative provider of outsourced email hosting services that caters to hundreds of thousands of customers worldwide. The company was formed in 2003 and has developed a robust email platform with a rich feature set that aggressively filters spam and viruses. The company is positioned as a low-cost Microsoft Exchange alternative. FuseMail's headquarters are in Kansas City, Missouri.
For more information on FuseMail, please visit: http://www.fusemail.com
Media Contact:
FuseMail, LLC
Henry Weber, 816-291-3456 (Direct)
Toll-free: 877-888-3873 x3456
###