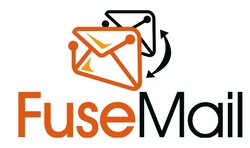 With geo-redundancy, customers have peace of mind knowing their email will be highly available even in a rare situation of a datacenter failure
Kansas City, MO (PRWEB) August 11, 2009
FuseMail, LLC - a leading provider of hosted email solutions - launched a geo-redundant email hosting solution today. This service keeps real-time copies of data in two geographically diverse datacenters protecting against natural disasters or other catastrophes.
FuseMail's email hosting customers already enjoy having a fully redundant email hosting solution within world-class datacenters. Existing customers are hosted on a mail cluster meaning a copy of the data is written in real-time to two physical servers. Geo-redundant email hosted customers have two clusters, one in each datacenter in different cities.
"With geo-redundancy, customers have peace of mind knowing their email will be highly available even in a rare situation of a datacenter failure," remarked Bryan Heitman, President of FuseMail, LLC. In the event of a datacenter failure, the secondary datacenter will be automatically promoted and service maintained.
Customers of FuseMail's geo-redundant email hosting solution also receive a full suite of features including: Webmail v3 (a powerful desktop-like webmail), email client access, mobile sync with 1000 different mobile handsets and Outlook/Thunderbird calendar, contacts, tasks, and notes synchronization.
"For many businesses email is a vital communication tool that cannot be unavailable regardless of the situation. Backing up data offsite is not enough. FuseMail has duplicate hardware in place online and ready for service 24x7x365," commented Henry Weber, VP Operations of FuseMail.
FuseMail is a silver sponsor and exhibitor at HostingCon 2009 in DC. Demonstrations of the platform will be available upon request and FuseMail will be offering RC Helicopters to people who stop by.
About FuseMail, LLC
FuseMail is an innovative provider of outsourced email hosting services that caters to hundreds of thousands of customers worldwide. The company was formed in 2003 and has developed a robust email platform with a rich feature set that aggressively filters spam and viruses. The company is positioned as a low-cost Microsoft Exchange alternative. FuseMail's headquarters are in Kansas City, Missouri.
For more information on FuseMail, please visit: http://www.fusemail.com
Media Contact:
FuseMail, LLC
Henry Weber, 816-291-3456 (Direct)
Toll-free: 877-888-3873 x3456
###