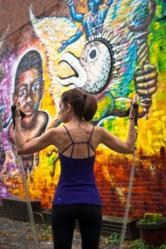 "We've incorporated these tips at the Playground and it really helps to strengthen bonds within our Fuse team, and amongst our students as well," says Roxanna Hakimi, co-owner of Fuse Pilates.
Washington, DC (PRWEB) April 30, 2013
Harmony plays itself out in various ways at work and play, especially at Fuse Pilates. From the upbeat music tracks that are used for choreographing classes, to the synergy created in their work environment and within the Fuse Pilates Playground family.
"We've incorporated these tips at the Playground and it really helps to strengthen bonds within our Fuse team, and amongst our students as well," says Roxanna Hakimi, co-owner of Fuse Pilates. "Plus, they're simple enough that these little things can be used for creating harmony in your home life, too, from creative exploration to lighting candles to set the mood."
The team at Fuse Pilates has put together five tips for promoting a harmonious work environment, which aides with stress-reduction and overall well-being.
Five Tips for a Harmonious Work Life
1) Encourage creativity and establish common goals. When your team shares the same goals and values about their job they are more likely to create positive working relationships and keep each other motivated. Encouraging your team to try new things and get creative will benefit your business and employees by allowing them to express themselves and their ideas. Have brainstorm sessions where everyone can openly communicate new ideas to better the business...no restrictions and the sky is the limit!
2) Build your team up and don't be too bossy!
By supporting and promoting each individual employee's abilities, a sense of ownership in his/her work is encouraged, which will result in better work habits. Also, as a business owner/leader, you call the shots, but acting unnecessarily superior to your employees can create a sense of fear. This, in turn, can generate resentment and distrust. Creating a collaborative environment where everyone's opinions are valued and respected will create peace and harmony.
3) Have a monthly or quarterly volunteer retreat with your employees. Your retreat can be as simple as a half-day at a non-profit in your community or a larger organized volunteer project over a period of time (e.g. building a school, mentoring at-risk youth, etc.). In addition to team-building, volunteering together will garner a sense of collective worth and overall pride as a company. You can also help team members get to know one another better, allowing each individual to pick their non-profit of choice to lend their time and skills.
4) Eat! Grab a fruit basket (or some donuts) for your work meetings. It's a well-known fact that food creates a sense of community, so why not incorporate that into meetings? Get your team involved by encouraging potluck-style meetings once a month and encourage employees to sign up to bring in their favorite dish to share.
5) Aromatherapy. This might be a strange tip but it's also an important one! Aromatherapy is a powerful tool in helping create a certain feeling within your business. Research some different scents you feel are relatable to your company or for the mood you'd like to create, for example scents such as eucalyptus and spearmint are known to help the body relax and think clearly. You can use candles and oils to incorporate the scent and your employees will experience the benefits of a harmonious work space via scent.
The Fuse Pilates Playground brings a fresh, revolutionary method of Pilates to the DC area. As an extension of the Fuse Pilates lifestyle, you can find more helpful tips at the Fuse Pilates blog: http://fusepilates.com/blog. To learn more about Fuse Pilates' schedule of classes, boot camps and private training sessions, visit: http://www.fusepilates.com.
About Fuse Pilates
Fuse Pilates, developed in 2005 by fitness expert Mariska Breland, builds on traditional Pilates exercises and teaching styles with an original, fun, and highly effective twist on Pilates mat and apparatus classes. Prompted by the growing popularity of the Fuse Pilates method, Breland partnered with Roxanna Hakimi and Sormeh Youssefieh to open the Fuse Pilates Playground in Washington DC's trendy Dupont Circle neighborhood in June 2011. Each Fuse class is different, uniquely customized to student requests and choreographed to upbeat music. Classes offer an intense yet approachable method of mat, tower, reformer and chair instruction, along with private coaching and wellness counseling for beginner to expert levels. Fuse Pilates' highly trained and experienced instructors concentrate on 360 degrees of the body to shape and create beautifully-toned physiques while promoting overall health and wellness. To learn more about Fuse Pilates visit http://www.fusepilates.com/.