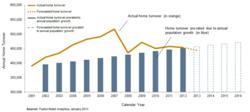 It's not a rosy picture but putting historical data for home turnover in context of population growth provides Canadian retailers with some reasons for optimism.
Toronto, Canada (PRWEB) January 29, 2013
The decline in Canadian home sales during the second half of 2012 should not become a source for "doom and gloom" predictions of Canadian retail performance in 2013, according to analysis from Fusion Retail Analytics.
"Home turnover in Canada has been negative for the past six months and the eye-catching 17 per cent decline in December 2012 has been triggering worries in Canadian business press," says Joe Thacker, Chief Strategist of Toronto-based Fusion Retail Analytics. "We predict home turnover will go down by only -2.2 per cent in 2013. It's not a rosy picture but putting historical data for home turnover in context of population growth provides Canadian retailers with some reasons for optimism."
Canadians who have recently moved to a new home spend dramatically more than other retail consumers. They also purchase from more retail categories. This makes "home turnover" – a measure of recent movers – a major factor in overall retail sales growth and a potential source of worry for furniture, mattress and home improvement retailers across Canada.
Fusion uncovers the fundamental drivers of future retail growth and predicts the most likely scenarios by determining the "tipping points" and measuring the year-over-year roll-over impacts and oscillations. In this case, Fusion looked at Canadian home turnover over time: 390,000 homes were sold to new owners in 2001, and as the housing bubble picked up steam, turnover rose by 33 per cent to a high of 517,000 homes in 2007. It then fell to 430,000 homes in 2008 and picked up slightly again to reach 454,000 homes in 2012.
Total home turnover numbers need to be viewed in context of the overall population growth in Canada. Every year there are more Canadians, so more homes are needed for them. On average, 1.3 per cent more Canadians require homes each year. Over the last eleven years the normal amount of home turnover has risen from 390,000 to 452,000 units. That number is only 2,000 less than the actuals of 454,000 units sold in 2012. Population growth has caught up with home turnover. This does not indicate that home turnover will be positive in 2013. The Fusion model shows home turnover in the range of 444,000 homes for 2013, or a year-over-year decrease of two per cent. The decline will be largely due to recent government policy changes and short-term trends.
"With population growth having become an 'anchor' for home turnover developments, the more developments deviate, the stronger the pressure will be to swing back to the 'normal' state; this alone makes a significant drop in home turnover in 2013 extremely unlikely," says Thacker. "It also means that the negative development in 2012 makes it easier for a roll-over. The most likely scenario is that starting in June 2013, we will be rolling over soft home turnover in Canada, thereby helping year-over-year results."
About Fusion Retail Analytics
Fusion Retail Analytics works with retailer Executives in North American and Asia to dramatically grow their profits through enhanced decision-making processes, best-practices, cutting-edge thinking, and analytics. Their clients dramatically and consistently outperform the competition, often double the average industry growth rate. For more information, please visit http://www.FusionRetailAnalytics.com.
Media Contact
Winnie Wong
Fusion Retail Analytics
Telephone: 866.398.9927 ext. 709
Email: Winnie(at)fusionretailanalytics(dot)com