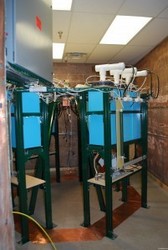 Privately-funded science is the only practical way to investigate promising yet virtually unknown technologies with parallel experiments speeding confirmed results
Hastings, MI (PRWEB) March 30, 2010
Anticipating net energy in 2010 or 2011,Energy Made Cleanly CTO Matthew R. Wood plans to aggressively minimize commercialization delays by building 2,500 local college collaborative network of DPF-based aneutronic fusion energy labs funded by alumni, business, and community leaders to address several clean energy challenges. Economy, solar, and bio fuels also to benefit.
"Building a huge open-source network makes the mammoth perceptual challenges such as lack of public awareness, funding, and regulatory politics much more manageable," said Energy Made Cleanly president and CTO Matthew R. Wood, who plans to spread the key scientific and financial risks as thinly as $100 per business and community leader threatened by new EPA regulation, the Cap And Trade Bill, and the coming C.L.E.A.R. Act. Funding and control remains in each donor's community. No federal research funds are jeopardized.
Such a network's numbers are intriguing. 2,500 campuses raising $1M per year results in $2.5G of private capital. At $100 per donor, this represents at least 25 million influential donors- possibly enough to isolate and challenge any lobbying group that believes it can't benefit from virtually free energy.
The science is equally intriguing. Of three currently practical fusion fuels, only the scientifically ambitious hydrogen-boron-11 (pB-11) eliminates the inefficient and expensive steam turbine generators whose high capital costs prevent atomic fission power plants from delivering on their promise of cheap electricity.
Three groups are pursuing pB-11 fusion with the entirely different reactor configurations known as Colliding Beam Field Reversed (CBFR), PolyWell, and Dense Plasma Focus (DPF). All pB-11 reactors offer the ability to directly convert their fusion products into electricity using induction and the photovoltaic effect. No new science is required, although the photovoltaic to electricity converter is a significant tooling and engineering challenge which could produce high paying jobs for decades as increasing power densities are marketed and the new tooling is adapted to solar cell production.
All hot-fusion reactors confine their electrically-conducting but extremely unstable plasma in magnetic bottles as they're brought up to the required density and temperature for enough time to release more nuclear binding energy than it took to start the reactor. Fusion is far easier than profitable fusion.
Only the DPF configuration avoids the capital expense of external electromagnets. It operates as a pulsed power supply which concentrates peak magnetic fields in excess of 12GG into a microscopic magnetic bubble only 8 to 10 microns across. 12 billion times the earth's magnetic field is far stronger than external electromagnets can produce.
The repeating pulsed operation makes it immune to runaway chain reactions and melt-downs. Nor can any aneutronic fusion reactor explode or create radioactive waste. Each cycle takes just over a millionth of a second. 360 cycles per second is expected to make 5MW of net power in production machines.
Industrial heaters will be the first markets, profitable at something less than electrical break-even by reducing fuel bills, according to Wood. At or above electrical unity, these furnaces, ovens, and boilers operate entirely pollution-free.
Lawrenceville Plasma Physics, Inc. is developing the Focus Fusion 1 aneutronic fusion reactor to achieve energy break-even in 2010. EMC's plan is to clone this machine at least 2,500 times in the US to efficiently provide the NRC with extensive experience in permitting and supervising the design, construction, operation, and modifications on these research reactors to streamline the application for a DPF-based Aneutronic Fusion licensing category.
Regulatory, teaching, and tooling careers could be among the first clean energy jobs created by a DPF network, which could be adapted to other branches of science needing search engine visibility as well.
This new licensing category is presently believed to be the largest single hurdle to fully integrating DPF-based fusion power into society. It's expected to require overwhelming public support in the form of making written AFIPS- Aneutronic Fusion Integration Plans- the key hot button issue that all other campaign issues revolve around in the 2010 and 2012 election cycles. Cheap, clean energy should lower the cost of health care, bio-fuels, and desalination plants to name just a few industries.
At stake is the ability to buy as many 5 to 20MW reactors needing only 400 square feet and costing $300,000 FOB as an engineer needs to power any project, creating genuinely negative carbon footprints in the process.
A more detailed version of Mr. Wood's plan, including clean energy job creation potentials, can be downloaded from EnergyMadeCleanly
About
Energy Made Cleanly, bootstrapped by serial entrepreneur Matthew R. Wood, is in the business of eliminating the perceptual roadblocks hampering nearly all organizations' business plans and operations. Contact him for consulting and speaking engagements.
###