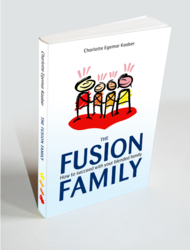 A strong foundation in your blended family creates stability and opportunity for growth
Slagelse, Denmark (PRWEB) June 16, 2011
What can we do when it's the birthday of our partner's ex and he/she does everything to ruin our family life? Charlotte Egemar Kaaber suggests to take the fusion child shopping for a gift, which the child can give his/her mother or father.

"It is important for the child to have a gift for his/her mother or father. It also shows your fusion child that his or her feelings are important to you and that you accept the other parent. For some, it would be unimaginable to shop for your husband/wife's ex, but there is no doubt that you gain far more than you give" says Charlotte Egemar Kaaber, fusion family coach and author of "The Fusion Family - How to succeed with your blended family."
And according to Charlotte Egemar Kaaber the fusion families might as well accept that the ex plays an important role in the harmony of the family.
-"You probably spend an incredible amount of energy complaining, being angry or hurt and perhaps even being at 'war' with the ex or at worst both exes. But if you are aware of the issues you argue about, what is important and what is not, you can avoid some of the problems," says Charlotte Egemar Kaaber.
"The negative energy goes beyond your new family, and makes it hard to stay focus on the positive aspects of your fusion family. Therefore it is wise to define a limit for which issues you want to solve and which you should let go of. I find that issues which are NOT about the children's wellbeing, you should let go of," continues Charlotte Egemar Kaaber.
"Rather than spending negative energy on insignificant things, you should choose to focus on the daily life of your fusion family. That's where you really can make a difference and have positive influence," concludes Egemar Kaaber.
One of Egemar Kaaber's other major issues is the importance of agreeing regarding expectations. She recommends that the adults working on being one entity - both towards the children, the exes and the outside world. This requires that the parents and the fusion parents have discussed and agreed on how they handle the disciplining of the children, the obligations to the other's children, the cooperation with exes etc.
2,100 new fusion families every day
Based on her clients' and her own experiences Egemar Kaaber is now launching the recipe for a happier family life within fusion family. Since there are 2,100 new American fusion families emerging daily there is definitely a need for advice.
"It is both difficult and very challenging to get a fusion family to function, and pitfalls are everywhere when you merge a new family. But if you are prepared and consciously work with your family, you can succeed. You will have to bite your tongue and compromise along the way and also accept things you might not immediately want to accept, but it pays off," promises Charlotte Egemar Kaaber, who coached a large number of fusion families through difficult times.
In her book Egemar Kaaber covers topics such as: the preparation for the fusion of the family, the rules to play by for the blended family, the pitfalls, the everyday life of the fusion family and relationships with the other parents. Egemar Kaaber shares thought-provoking inspiration and ways to succeed in a wide range of applicable issues including:
communicating with an ex-spouse
disciplining of the children in a blended family
establishing new traditions and creating new memories
dealing with jealousy among the children and parents
being present and creating safety and security
The practical advice, tips, and tools will help any newly-blended family understand and overcome challenges to create a future together.
Why a new word?
Charlotte Egemar Kaaber calls for using the term "fusion" for the blended life. She believes that the words 'blended' and 'step' has a negative connotation. Those words already have a label assigned to them. For example the word stepmom makes most of us think of an evil stepmother, as we know her from fairy tales. And the word blended family has the notion of everyone in the family has becomes a uniform mass. Not a pleasant image either.
"We need positively charged words that best support us in our new role as fusion parents and create a solid foundation in the new family. Being a fusion family is a sobering, timely and factual title: Two families become one. And just like company mergers, merging of families can result in something really good and successful," says Charlotte Egemar Kaaber and concludes:
The word fusion family often creates a smile on people's face. And that is always a good start."
Meet the author and the Danish fusion family on their website. There is also an option of subscribing to the newsletter.
# # #