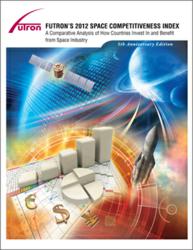 Pioneering space actors like the United States, Europe, and Russia still lead in many aspects of space activity, but relative newcomers such as China have dramatically narrowed the gap, and indeed, hint at overtaking established leaders in some areas.
Bethesda, Maryland (PRWEB) October 17, 2012
This month—as the world commemorates the 55th anniversary of the first orbital space launch—Futron Corporation, a U.S. aerospace, satellite, and telecommunications consulting firm, is pleased to announce the results of its 2012 Space Competitiveness Index.
Futron's Space Competitiveness Index, an annual, independent study, compares 15 leading space-participant nations across more than 50 individual metrics that together reflect three overarching competitiveness drivers: government, human capital, and industry. By evaluating these metrics, the Index numerically benchmarks the relative space competitiveness position of each nation. This framework allows policymakers and enterprises to pinpoint space strengths, weaknesses, challenges, and opportunities for each nation, understand how each country invests in and benefits from space industry, and make informed decisions based on the changing dynamics of global space competitiveness.
This year marks the fifth anniversary edition of the study, allowing for a half-decade review of international space trends based on quantitative and qualitative data. "The 2012 results underscore just how quickly the international space landscape is changing, and how globalized space activity has now become" notes Futron Space & Telecommunications Division Director Jay Gullish. "Pioneering space actors like the United States, Europe, and Russia still lead in many aspects of space activity, but relative newcomers such as China have dramatically narrowed the gap, and indeed, hint at overtaking established leaders in some areas. Meanwhile, the middle pack of space actors is especially competitive, while emerging nations, many not typically associated with space, are beginning to achieve space policy or technical milestones at an accelerated rate. As a result, the competitive gaps separating all space actors are narrowing—a trend that has only accelerated over the past five years."
2012 Competitiveness Trends for 15 Leading Nations

The United States remains the overall leader in space competitiveness, but its relative position has declined for the fifth straight year, as other countries enhance their capabilities while the United States undergoes major transitions amid significant uncertainty. The United States is the only country whose relative competitiveness score has declined five years in a row.
Europe's integrated approach and policy harmonization are complemented by the rise of new national space agencies across the continent—from the United Kingdom to the Czech Republic to Estonia—as well as more assertive space export financing.
Russia remains the world's launch leader, and promises to retain that role in the near term thanks to its vital role in transporting astronauts and cargo to the International Space Station, as well as the introduction of Soyuz launches from the European spaceport at Kourou. These strengths, however, are offset by weaknesses in retention of human capital talent.
China performed a record number of launches in 2011, surpassing the United States for the first time, while increasing investment in technical education programs and civilian research institutes.
Japan, despite ongoing benefits from its policy reforms, is losing competitive ground relative to most other actors, and can benefit from a greater focus on commercializing its industrial base.
India is enhancing its space-related technical education, while gradually progressing toward a completely self-reliant set of next generation launch vehicles.

Canada retains a skilled space workforce, but delays in space policy refresh and implementation are significantly offsetting these competitive advantages.
South Korea's two failed launch attempts contributed to an organizational shakeup, but have not reduced its determination to become the newest country to achieve independent spaceflight.
Israel, despite promised funding increases, remains challenged by its lack of domestic industry scale, and has difficulty sustaining a commercial space presence in global markets.
After more than a decade of dormancy, Australia is back. The government is refreshing its national space policy segment-by-segment, focusing on space not only a driver of innovation and expertise, but also for its benefits to Australian society.
Brazil has begun to re-examine its national space priorities, increased funding, expanded its partnerships, and laid plans for a new launch vehicle. It remains to be seen whether these steps will keep Brazil ahead of regional counterparts that are also emerging onto the space scene.
Argentina is adapting its satellite manufacturing sector for the international marketplace, exploring both commercial and government-to-government deals. It stands to benefit from increased investment in spacecraft subcomponents.
Ukraine has an enviable space industrial base, but limited domestic demand for its space hardware. It is aggressively seeking partners overseas, but has not yet engaged with key emerging markets.
Iran has made faster progress than any other newly emergent space nation. The tenor of Iran's space program—civilian or military—will hinge on geopolitics. Other international actors have substantial power to influence the future focus of the Iranian space program.
South Africa is divided, from a budgetary standpoint, between space investments focused on societal usage of external assets already in space and investments focused on building the country's own space industrial base.
International collaboration is increasingly taking shape as a concerted space competitiveness strategy, especially among smaller actors.
Four distinct space competitiveness tiers have emerged. The top two remain dynamic, but have shown some stabilization; meanwhile, the bottom two are subject to especially intense competition, with very small gaps making the difference in competitive rankings.
The Executive Summary for the 2012 SCI is available for complimentary download. To learn more about this report, visit http://www.futron.com/SCI_2012.xml.
ABOUT FUTRON
Futron Corporation is a premier provider of decision management solutions that improve outcomes for our clients by enhancing their ability to make complex choices. Our proprietary analytic models, methodologies, and data repositories transform information into intelligence. Our interdisciplinary team offers comprehensive knowledge and deep experience in statistical analysis, competitive assessments, forecasting, and strategy. Founded in 1986, Futron has an expert staff including policy analysts, management leaders, economists, regulatory specialists, and engineers. Futron is headquartered in Bethesda, Maryland with offices in Houston, Texas and Hampton, Virginia.
Futron Corporation's Space & Telecommunications Division provides global strategic market and technology advising services to commercial and government space, satellite, and telecommunications enterprises.