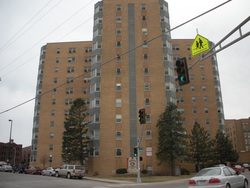 Washington, DC (PRWEB) June 25, 2010
FutureGen Capital operates a private equity fund that is targeting multi-family properties, commercial bridge loans, tax lien investments and distressed debt assets within the United States. We specialize in capital and asset management through strategic investment services targeting options in commercial and investment real estate, allowing more opportunities for portfolio diversification for Accredited Investors.
The subject property consists of an 11 story, high rise apartment building constructed in 1953 containing a total of 217 apartment/condo units. Of the total units, 35 have been sold as condominiums and are individually owned. The remaining 182 units are owned by Mr. Michael Hannon. The loan will be secured by 53 free and clear units with the purpose of multi-family use, of which 37 are currently rented. The purpose of the loan is to bring all the units online to rent and the remaining cost of rehabilitation is approximately $100,000. The property has been refinanced as a multi-family property.
The units range in size from 388 sq/ft to 1100 sq/ft. The units are comprised of studio, one, two and three bedrooms.
The borrowing entity is a single purpose LLC owned wholly by Michael Hannon. Mr. Hannon has invested approximately $3,000,000 into the property, and has clear concise plans for the Rorick to operate as a multi-family property.
Omaha is the largest city in the state of Nebraska, and is the county seat of Douglas County. It is located in the Midwestern United States on the Missouri River, about 20 miles (30 km) north of the mouth of the Platte River. Omaha is the anchor of the Omaha-Council Bluffs metropolitan area, which includes Council Bluffs, Iowa, across the Missouri River from Omaha. It is located 190 miles north of Kansas City, MO.
The modern economy of Omaha is diverse and built on skilled knowledge jobs. In 2009, Forbes identified Omaha as the nation's number one "Best Bang-For-The Buck City" and number one on "America's Fastest-Recovering Cities" list. Tourism in Omaha benefits the city's economy greatly, with the annual College World Series providing important revenue and the city's Henry Doorly Zoo serving as the top attraction in Nebraska. Omaha hosted the Olympic swim trials in 2008, and is scheduled to do so again in 2012.
###