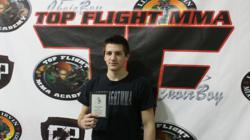 Belcamp, Maryland (PRWEB) December 31, 2012
This past weekend Stellar Fights held their annual MMA banquet to culminate another action packed year for the organization. Some of the notions to be awarded were: Fastest Knockout, Fastest Submission, Best Submission, Come Back of the Year, Break Out Fighter of The Year, and Fight of The Year.
On this night Eilola (from Top Flight MMA Academy in Belcamp Md), after 2 stellar performances of his own, was awarded the "Future MMA Star" award. Eilola came to the organization already with a 15 second KO in his debut and in his 2 fights with the organization he showcased why he is a future MMA star.
In his first fight he used his striking to set up a submission win and in his second fight he used his wrestling to secure another submission win. From Eilola's MMA debut to his two Stellar fights wins, he has put on a full display of MMA skill and he promises more to come.
"I'm growing and I have the best team behind me. I'm getting better every day, I can't wait show case what I've been learning back at Top Flight.", says Eilola.
As 2012 comes to a close, Steve looks forward to 2013 being the year he takes Stellar Fights welter weight titles.