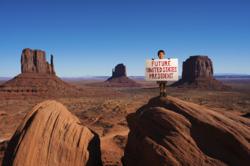 The best part of this project is the excitement of the children and hearing their goals and aspirations.
Los Angeles, CA (PRWEB) April 17, 2013
If there was a way to help children be part of a history making project, wouldn't every parent want to know about it? Welcome to Future Presidents, a project that brings Disney's Zendaya Coleman and President Jimmy Carter together with thousands of families across the United States.
Children across the country are getting involved in the Future Presidents Project. Acclaimed photographer Matthew Jordan Smith is interviewing and photographing kids in each state asking them to weigh in on Presidential issues, and what they would do as President themselves. Their answers are inspiring, humorous and give an interesting perspective on their view of the world.
Scheduled to be released at the end of this year, the book will be an intriguing read and window to the thoughts of the future leaders of our country. The book includes an introduction by Zendaya and an incredibly powerful quote by President Jimmy Carter written exclusively for the book, Future Presidents.
"The kids I've met in this project are truly inspiring," Smith says, "and it's been humbling to hear the stories of their families and their hopes for America."
Smith is searching each state for families to photograph for the project. He makes the kids feel like stars, something his career as a photographer includes, having worked with Oprah Winfrey, Michael Jordan, Vanessa Williams and Zendaya, just to name a few. In many of the interviews, he involves parents and grandparents (many of whom are immigrants to the U.S.) who also share their hopes for their children and the country. Smith has just 18 states left to finish, and has a Kickstarter page to help complete the project.
"Americans have been overwhelmingly supportive and I've heard so many wonderful stories, I wish I could include many more in the book," Smith says, "That's why we've created the opportunity for all children to share their stories via the Internet."
How People Contribute: Parents can simply use a poster board to express their children's dreams to be President, and photograph them holding the poster. No need to be a professional photographer-- a camera phone is adequate (tip: lots of light will make the writing easier to read). Then they need to share the pictures on the project's Facebook page or on Pinterest using the hashtag #FuturePres/
The accumulated online images will be a powerful testimonial to the growing generation. Each day, Smith will feature the most powerful image as the Facebook cover page.
Ever since he was a twelve year old, Matthew Jordan Smith's passion has been telling stories with photographs. He is now one of the most sought after commercial photographers in the world. The Future Presidents Project will be his third book, along with Sepia Dreams,: A celebration of Black Achievement Through Word and Images, and Lost and Found (The Microsoft Mission Series.)
For more information on how you can be involved in the project contact Matthew at MJS(at)matthewjordansmith(dot)com