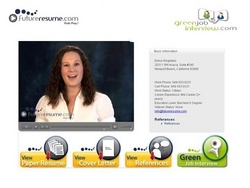 NEWPORT BEACH, Calif. (PRWEB) September 3, 2008
According to Greg Rokos, president and co-founder of FutureResume.com, "In today's tough job market, job seekers are looking for anything that can give them an edge. When a candidate comes to FutureResume.com and uploads the resume and references, plus a one-minute video introduction, the job seeker automatically gets this professional looking profile page that is not only available to all the hiring companies looking for candidates on FutureResume.com, but also a tool that candidates can use any way they want in their job searches. They can give it to mentors, references, and network contacts, as well as send it to employers and job postings they find at other sources than our job board. ProPage is another powerful differentiator that sets job seekers apart from the crowd – and another step in the FutureResume.com video hiring process."
Theo Rokos, co-founder and board member of FutureResume.com added, "FutureResume.com is free to job seekers, so receiving a personal ProPage URL for just doing something for free is a huge bonus. Plus, anyone who can reach the FutureResume.com office in Newport Beach can come down and get their one-minute video introduction professionally produced for free! We give people whether local or not a lot of coaching and help as well. Those that are too far away from the office should just go to the web site for the guidelines in making their own video introductions at home, and if a job seeker contacts us, we can often provide quite a bit of professional coaching remotely via phone and online videoconference support. It really is simple to participate in the future of video hiring!"
About FutureResume.com
FutureResume.com was founded in June 2008 by two brothers from Southern Calif., Greg and Theo Rokos, with years of experience in executive search and sales management. Their concept was to bring together ideas that had been around the edges of the hiring experience for awhile — specifically video resume and videoconferencing — and make them central to a new job board to enable the best companies to find the best people. Job seekers make one- to two-minute video introductions that they post with their resumes on the job board site, thus going the extra mile to showcase themselves and demonstrate commitment. In addition, companies can produce a two-minute video showcasing the benefits of their workplace to improve their recruiting efforts. Hiring managers save time and money finding the right candidates for the job by reviewing the video resume introductions. Then they can push a button to schedule a videoconference through GreenJobInterview.com, the browser-based FutureResume.com videoconference application. No matter how many places a job seeker may be searching for a job, FutureResume.com is the one place where they can stand out from the crowd.
FutureResume.com is located at 20311 SW Acacia Street, Suite 240, Newport Beach, Calif., 92660. More information can be found on FutureResume.com or by calling (949) 553-8331 or 888-838-8331.
Release Summary:
FutureResume.com today announced ProPage, a personal URL containing an individual's video, resume and references that's free to everyone registered on FutureResume.com to send to hiring managers, recruiters or other contacts in their job search database.
Keyword Tags:
free online resume, hiring, job board, job listings, job search, job search engines, job search sites, local job listings, local job search, online job search, online resume, video resume
MULTIMEDIA GALLERY http://www.businesswire.com/cgi-bin/mmg.cgi?eid=5768912