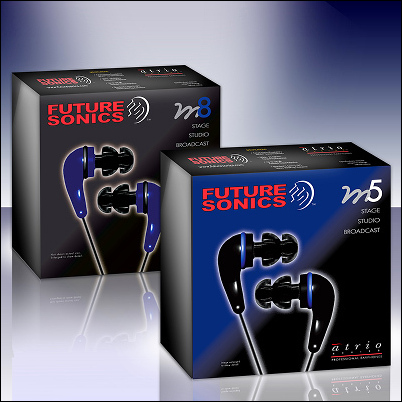 Hear Technologies is an outstanding company that understands and incorporates the finest audio quality as their first priority in much the same way as we do
Bristol, PA and Huntsville, AL (PRWEB) January 24, 2007
Future Sonics Incorporated and Hear Technologies today announced their new distribution agreement for the Atrio Series™ professional universal-fit earphones for the U.S. market in musical instrument retail (MI), sound reinforcement (SR) retailers and sound contractors. This agreement brings together two like-minded companies that each focus specifically on the concepts of professional personal monitors and systems. As both companies bring the value of their experience and product lines together, they will collectively provide the most complete and best sounding monitoring solutions available for concert tours, music venues, recording studios, production facilities, houses of worship as well as individual musicians, engineers and producers.
"Hear Technologies is an outstanding company that understands and incorporates the finest audio quality as their first priority in much the same way as we do," reports Daniel East, Director of Worldwide Marketing & Artist Relations for Future Sonics.
Scott Haas, VP of Sales for Hear Technologies stated, "Our network in the marketplace combined with our own product lines welcome this relationship and will give customers the absolute best monitoring solutions in pro-audio today."
About Future Sonics
Future Sonics is the award-winning original innovator of professional custom and universal fit earphones for personal monitoring for major tours, venues, artists, engineers, broadcasting and houses of worship worldwide. Their dedication to the finest audio quality, reliability and personal service continue to serve the industry's professionals with their Ear Monitors® brand, Atrio Series™, SofterWear™ professional products, OEM product development and production consulting as they have since 1985. Future Sonics personal monitors are recognized by The H.E.A.R. Foundation as products offering their full range of sound and performance at - even the lowest volumes. Future Sonics products are available through their web site at http://www.earmonitors.com, from their authorized global network dealers or your local audiologists and hearing specialists.
About Hear Technologies
Hear Technologies is the Pro Audio product division of Quantum Technologies Inc., a world leader in custom audio/video systems. Hear Technologies designs, manufactures, and distributes unique, solution-based, affordable pro audio equipment of the highest quality to fill the personal and professional needs of domestic and international customers. We supply world-class products rich in features that are simple to use and offer unparalleled value - all with an allegiance to superlative customer service. Products include Hear Back, Talk Back, Mix Back, ADAT® Extreme Extenders, HearBuds, HearBuds with Headsets and a variety of cables.
For more information please contact:
Daniel East
Director of Worldwide Marketing & Artist Relations
Future Sonics
416 Green Lane, Suite 2
Bristol, PA 19007 USA
Toll Free: (877) FSI-EARS
Outside the USA: (215) 826-8826
FAX: (215) 826-8814
or
Scott Haas VP/Sales Hear Technologies
991 Discovery Drive
Huntsville, AL 35806 USA
Tel: (256) 922-1200
Fax: (256) 922-1221
http://www.HearTechnologies.com
Ear Monitors®, the "Ear Monitors" brand, Atrio SeriesTM, the "FS" icon, "believe your ears", "hear what you've been missing", FS1 and associated logos, images, likenesses and representations are trademarks of Future Sonics Incorporated. Hear Technologies®, Mix BackTM, Hear Back®, HearBudsTM, the "Jack" logo, and "Control Your Mix!" are trademarks of Hear Technologies. All other trademarks are property of their respective owners.
###