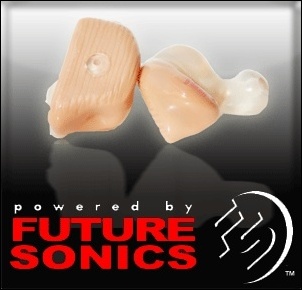 Bristol, PA (PRWEB) October 5, 2006
As part of the 2006 AES conference in San Francisco, CA, Future Sonics, the original innovators in professional earphones and personal monitoring products, announced the release of their new and next generation of professional drivers for their Ear Monitors® brand personal monitors, the MG4plus™. Designed and manufactured by Future Sonics specifically and exclusively for their custom products line in the Ear Monitors®, Ear Monitors® Colours, Ear Monitors® Elite Class and special needs applications, the new drivers are part of their "Power of One" single driver performance concept that will outperform any similar product with one, two, three or even four driver designs.
About MG4plus™
The MG4plus™, like all Future Sonics products, delivers deeper, more accurate bass response, clean transparent highs and natural, warm vocal tone. The MG4plus™ drivers deliver realistic dynamic sound more like those the human ear listens for - even at the lowest volumes -- and with unrivaled accuracy. The new flagship Future Sonics Ear Monitors® brand personal monitors are available now with MG4plus™ with all new orders and as an upgrade on some existing models.
The Heart of the Design
As the only brand on the market today that manufactures their own designs of proprietary drivers for their professional earphones, Future Sonics elevates their already legendary dynamic technologies creating yet another industry standard with the release of the MG4plus™. Like the all of Future Sonics' "Power of One" engineered drivers in the FSI dynamic, MG5™ and MG4™ before it, the MG4plus™ produces audio quality that outperforms all other products of this type at any price and with greater reliability for the most demanding performance applications in concert touring, broadcasting, recording studio and multimedia creation situations.
Pricing
Ear Monitors® brand custom-fit personal monitors start at $798.00 USD and can be customized as appropriate to the specific aesthetic, technical and personal needs of the client. Upgrades to MG4plus™ are available for Ear Monitors® delivered within the last 24 months for $150.00 USD/pair.
Future Sonics also recently announced their new universal-fit personal monitors, The Atrio Series™ in models m5 for live performance applications and m8 for broadcast, studio and multimedia applications that also feature "The Power of One" performance beyond any other single or multiple driver design from any brand.
H.E.A.R. at AES
MG4plus™ drivers are recognized by the H.E.A.R. Foundation as a product offering its full range of sound and performance at even the lowest volumes. H.E.A.R. applauds Future Sonics' new professional earphones as a significant step forward in hearing conservation due to increased clarity across a broad range that measurably reduces the need for excessive amplification. Please visit H.E.A.R. at 2006 AES Conference in San Francisco, CA at booth 117 for FREE ear impressions when you order any custom-fit product, including Future Sonics Ear Monitors® brand personal monitors as a contribution in support of The H.E.A.R. Foundation and hearing education and awareness. For more information about H.E.A.R. visit http://www.hearnet.com
About Future Sonics
Future Sonics is the original innovator of professional earphones and personal monitoring systems for major tours, venues, artists, engineers, broadcasting and houses of worship worldwide. Their dedication to the finest audio quality, reliability and personal service continue to serve the industry's professionals with both their custom and universal fit professional products as they have since 1985. Future Sonics products are available through their web site at http://www.earmonitors.com, from their authorized global network dealers or your local audiologists and hearing specialists.
For information, dealership or press/media inquiries, contact:
Daniel East
Director of Worldwide Marketing & Artist Relations
Future Sonics
416 Green Lane, Suite 2
Bristol, PA 19007 USA
Toll Free: (877) FSI-EARS
Outside the USA: (215) 826-8826
FAX: (215) 826-8814
Please note: Ear Monitors®, the "Ear Monitors" brand, Future Sonics Ears™ brand, Atrio™, The Atrio Series™, ComfortFit™, EarFills™, SofterWear™, all associated logos, images and likenesses are trademarks of Future Sonics Incorporated. All rights reserved.
###