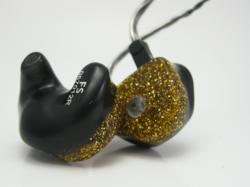 Bristol, PA (PRWEB) October 26, 2012
Future Sonics, the leader in custom dynamic personal monitors and innovator of the Award winning Ear Monitors® brand is excited to announce they have been nominated for a 2012 TEC Award for Outstanding Technical Achievement in the category of Headphone/Earpiece Technology their newest 13mm Speaker the mg6pro™.
The introduction and success of the new mg6pro™ 13mm speaker further validates the philosophy of the company and decision to stay the course of only using dynamic style transducers designed and manufactured by Future Sonics and not conforming to the use of balanced armature drivers. Originally designed for hearing aids, armature style drivers do not move air like a traditional moving diaphragm speaker. It is this air movement that truly sets Future Sonics audio apart from the competition and keeps clients coming back. The mg6pro™ Ear Monitors® feature an adjustable vent that allows for more or less air into the chamber slightly changing the frequency response.
"I have always believed in the type of audio created by our speakers;" states Marty Garcia, Founder and CEO of Future Sonics. Garcia goes on to say, "Sure, we could've just as easily expanded our product line to include single and multi balanced armature earpieces; but that's not a technology that I believe delivers the kind of studio quality audio and energy that Artists and Engineers deserve to hear and feel when using personal monitors – whether it be in the studio, live on stage or for their own personal use. This nomination further validates that after all these years we are right in continuing to do things our own way."
This is not the first nomination for the company. In 1992 Future Sonics Ear Monitors® was honored with the TEC award for Sound Reinforcement Product of the Year. 10 years later, in 2002, Future Sonics' products were once again recognized with a TEC Award nomination for their Ears™ EM3 professional universal earphone. And again at the 2011 Winter NAMM Show Future Sonics' Founder and CEO, Marty Garcia, was inducted into the TEC Foundation's 2010 TECnology Hall of Fame for his contributions to the world of Pro Audio with Future Sonics Ear Monitors® - as the First Commercially Available In-Ear Monitoring System (1985).
28th Annual TEC awards will be held on January 25, 2013 in Anaheim California at the 2013 NAMM Show.
About TEC Foundation
Founded in 1990, the TEC Foundation for Excellence in Audio is a 501(c) (3) public benefit corporation, dedicated to recognizing and furthering excellence in audio, video, music and other communications media arts. The Foundation's signature program is the Technical Excellence & Creativity Awards, honoring outstanding achievement in audio technology and production. It also supports organizations working to educate professionals and the public about the prevention of noise-induced hearing loss.
Contact
Hillel Resner
hillel(at)tecfoundation(dot)com
(925) 284-7729.
About Future Sonics:
Future Sonics is the award-winning original innovator of professional custom and universal fit earphones for personal monitoring. For more than 25 years Future Sonics products have been used by major tours, artists, engineers, broadcasters and houses of worship worldwide. Their dedication to the finest audio quality, reliability and personal service continues to serve the industry's professionals. Future Sonics personal monitors are recognized by H.E.A.R.® as products offering their full range of sound and performance at – even the lowest volumes. Future Sonics products are available through their web site at http://www.FutureSonics.com, and from their authorized global network of dealers.
Media Contact:
Dayna Gray
416 Green Lane, Suite 2
Bristol, PA 19007
press(at)FutureSonics(dot)com
215-826-8826
###