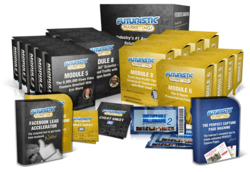 This '3 Minute Marketing Quiz' is designed to show you the holes in your marketing strategy right now, & give you an accurate indicator of how much money you're likely to earn in your business, based on your ratings
Palm Coast, FL (PRWEB) July 19, 2012
Magnetic Sponsoring, a company committed to helping entrepreneurs succeed in the direct sales industry, is excited to announce the release of Jonathan Budd and Mark Hoverson's new video and '3 Minute Marketing Quiz' for marketers to assess their strengths and weaknesses. Based on the results of the test, marketers will then be able to make appropriate adjustments to better their marketing skills. To take this brief quiz, please visit http://www.magneticsponsoring.com/3-minute-quiz.
"This '3 Minute Marketing Quiz' is designed to show you the holes in your marketing strategy right now, & give you an accurate indicator of how much money you're likely to earn in your business, based on your ratings," says Nick Haubner of Magnetic Sponsoring.
This quiz was created by Jonathan Budd and Mark Hoverson, both 8 figure Internet marketers, who have put together a program called "Futuristic Marketing" that can help any marketer improve their business. This program includes automated software, extensive training as well as a top rated seminar.
Futuristic Marketing has two main training modules called 1) Futuristic Traffic and 2) Futristic Influence. Each module teaches what is working today. Jonathon and Mark don't stop at only teaching the methods. They have spent thousands of dollars creating and perfecting push button software to help implement the techniques.
The program gives users the tools to build the audience of their dreams, then demonstrates how to use these tools properly. To find out more information on Futuristic Marketing, please click here.
"Jonathan Budd and Mark Hoverson have made millions of dollars in the past, and this will be the single best converting program they've put on the market to date, because it's the most valuable," continues Mr. Haubner. "And honestly, Futuristic Marketing is so good, we're even including some of the most incredible bonuses with the program worth more than $30,000 in all."
For more information on Futuristic Marketing and to take the 3 Minute Marketing Quiz, please visit http://www.magneticsponsoring.com/3-minute-quiz