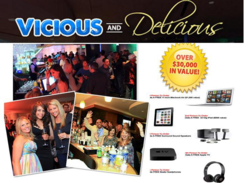 Austin, Texas (PRWEB) July 29, 2012
The Futuristic Marketing webinar replay with Jonathan Budd and Mark Hoverson is now available at the Black Box Social Media website. To find out more information about what is Futuristic Marketing and watch the webinar replay, please click here.
The Futuristic Marketing course is designed for aspiring and experienced online marketers looking to better understand how to generate affordable traffic using sites like Facebook, and how to turn that traffic into a community of customers.
To view the entire video series for Futuristic Marketing, please click here.
Created by Mark Hoverson and Jonathan Budd, Futuristic Marketing is actually 2 coaching programs combined into one:
#1. Futuristic Traffic.
#2. Futuristic Influence.
As well as 2 Software Solutions combined into one:
#1. Facebook Lead Accelerator
#2. Futuristic Influence Machine
To view the webinar replay, click here.
In addition, Black Box Social Media has teamed up with Magnetic Sponsoring as part of Team Vicious and Delicious to support Futuristic Marketing with bonuses totaling to excess of $30,000.
Tim Erway, CEO of Magnetic Sponsoring, is supporting the launch of "Futuristic Marketing" by putting together the best group of marketing minds in the Industry. This group has been dubbed "Team Vicious and Delicious," and includes top marketers Ryan Angelo, Raymond Fong and Ferny Ceballos, Andrew Cass, Didi Alcheva, Curt Maly, Katie Freiling, Mia Davies, Michael Force, Maria Andros, Adam Chandler, Jordan Schultz, David Schwind, and Jesse Jameson. These top minds support this product so much that they've teamed up to give away the most spectacular Futuristic Marketing Bonus package ever seen.
To view the replay of the webinar and sign up to receive the Team Vicious and Delicious Futuristic Marketing Bonus Packages, please visit http://blackboxsocialmedia.com/futuristic-marketing-webinar-replay-plus-bonuses/