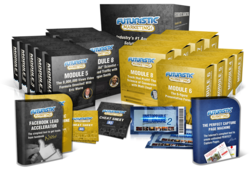 I want people to know how to use all this wealth of information being provided and turn this knowledge into cash.
Palm Coast, FL (PRWEB) July 26, 2012
Futuristic Marketing, the latest revolutionary creation by Internet Marketing geniuses Jonathan Budd and Mark Hoverson, has officially been released. This product has received such great reviews from many of the best Internet Marketers on the planet that Magnetic Sponsoring has pooled together more than a dozen of the top marketers to create Team Vicious and Delicious in order to create The Best Futuristic Marketing Bonus. As such, Team Vicious and Delicious is giving away more than $30,000 worth of bonuses when you purchase Futuristic Marketing through this link.
"The awesome bonuses given away by Team Vicious and Delicious may seem overwhelming," says Magnetic Sponsoring CEO Tim Erway, "which is why I'm releasing a sweet video where I give away my 4 Secrets to learning more, getting more done, and making more money in less time. I want people to know how to use all this wealth of information being provided and turn this knowledge into cash."
In summary, Tim Erway's 4 Secrets are as follows:
1) It's not about what you know, it's about having access to knowledge and a Strategy for putting that knowledge into action.
2) You don't have to "know" everything, you just have to know enough to be able to effectively "manage" and "measure" successful campaigns
3) Use summaries to extract the gold nuggets and learn more in less time
4) Get others to learn and implement to create True leverage in your business
To watch the full video with the full explanation and examples, please visit http://www.youtube.com/watch?v=cQgsEsTKro8
Why would Magnetic Sponsoring, along with Team Vicious and Delicious, give away so much information for Futuristic Marketing?
"Let's face it," continues Mr. Erway, "you can get the biggest bundle of products worth tens of thousands of dollars. But unless you can go through it and more importantly implement all these strategies, the information will be as useless as an ashtray on a motorcycle. Which is why I've assembled a dream team of super aggressive and might I say good lookin' marketers with very diverse backgrounds, strengths and marketing methods to give you only the best and the most valuable bonus package ever put together."
Futuristic Marketing has two main training modules called 1) Futuristic Traffic and 2) Futristic Influence. Each module teaches what is working today. Jonathon Budd and Mark Hoverson don't stop at only teaching the methods. They have spent thousands of dollars creating and perfecting push button software to help implement the techniques.
There are 3 types of Futuristic Marketing bonuses that people can qualify for when purchasing through Team Vicious and Delicious:
1) Fast Action Bonuses (First to take action)
2) Raffle Bonuses (Random drawing for cool stuff)
3) The "Everyone Wins" Bonus Package! (Get the goods)
For more information on Team Vicious and Delicious's Futuristic Marketing Bonuses, please visit http://www.magneticsponsoring.com/futuristic-marketing-bonus-package-pr9