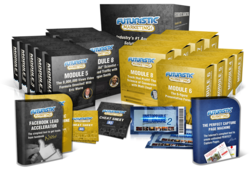 Jonathan Budd and Mark Hoverson have made millions of dollars in the past, and this will be the single best converting program they've put on the market to date, because it's the most valuable
Palm Coast, FL (PRWEB) July 18, 2012
Magnetic Sponsoring, a company committed to helping entrepreneurs succeed in the direct sales industry, has released its review of Jonathan Budd and Mark Hoverson's newest product called "Futuristic Marketing."
Futuristic Marketing is actually 2 coaching programs combined into one. #1. Futuristic Traffic. #2. Futuristic Influence. In addition to that, Futuristic Marketing is delivering world class software solutions that are completely compatible to the coaching.
"The Futuristic Marketing program is literally the most valuable product ever created," says Nick Haubner of Magnetic Sponsoring. "It's the most valuable product I've ever seen launched on the Internet. I'm convinced we're going to create the most success stories we've ever seen created while raising the bar for delivering more value to the marketplace."
The program gives users the tools to build the audience of their dreams, then demonstrates how to use these tools properly.
"Jonathan Budd and Mark Hoverson have made millions of dollars in the past, and this will be the single best converting program they've put on the market to date, because it's the most valuable," continues Mr. Haubner. "And honestly, Futuristic Marketing is so good, we're even including some of the most incredible bonuses with the program worth more than $30,000 in all."
For more information on Futuristic Marketing and to view the bonuses, please visit http://futuristicmarketingbonuses.com