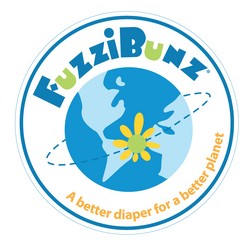 "The FuzziBunz One-Size cloth diaper is one of the most unique and innovative one-size cloth diapers on the market. We are proud to have the PTPA Seal of Approval," says Tereson Dupuy, FuzziBunz® inventor.
Lafayette, LA (PRWEB) September 3, 2010
FuzziBunz One-Size cloth diaper receives the coveted Parent Tested Parent Approved (PTPA) Seal of Approval for excellence in family products. PTPA honors practical, high-quality products and services. All products are tested rigorously by an independent panel of parent volunteers who evaluate these products in their own homes.
"We worked extensively on the design of the FuzziBunz One-Size cloth diaper. It's 37 adjustments allow these diapers to fit babies of all shapes and sizes. We are thrilled that not only our FuzziBunz Perfect Size diapers are PTPA approved, but also now the FuzziBunz One-Size has earned the 'award-winning' moniker as well," says FuzziBunz® inventor and Mother of the Modern Cloth Diaper, Tereson Dupuy.
Sharon Vinderine, president and founder of PTPA Media Inc., says, "At PTPA Media, we are proud to play a role in certifying innovative new products that families can trust. It's win-win. By improving communication between manufacturers and consumers, we are helping companies serve their market better, and helping families identify products that have been tested and recommended by their peers."
The award-winning FuzziBunz One-Size cloth diaper retails for $20 and are available in 14 different flavors – er colors – including Choco Truffle, Kumquat, Watermelon and Crushed Berries. For a full list of retail locations, please visit http://www.FuzziBunz.com
About FuzziBunz®
The patented FuzziBunz® cloth diapers are a convenient and sustainable diapering solution for today's busy parents. The reusable diapers ensure no leaks, no rash and no waste. FuzziBunz® diapers include three layers: 1) a waterproof outer barrier to keep wetness contained, 2) a soft fleece inner layer that touches a baby's skin and pulls away moisture, and 3) a unique, pocket-style opening that enables a parent to customize the absorbency using super absorbent micro-terrycloth pads. Stay-at-home-mom, Tereson Dupuy, invented FuzziBunz® in January 1999 in response to her infant son's chronic diaper rash and her overall dissatisfaction with all available diapers. Tereson stitched the first FuzziBunz® in her home and a short time later, the FuzziBunz® diapering movement was born. For more information about FuzziBunz® cloth diapers and accessories and to find a list of retailers, please visit http://www.FuzziBunz.com.
About PTPA Media Inc.
About PTPA Media: PTPA Media provides an objective framework for appraising and promoting new products designed to enrich family living. The company's mission is to marry innovative companies with discerning consumers, to improve families' access to quality products and services. For more information visit http://www.ptpamedia.com
###