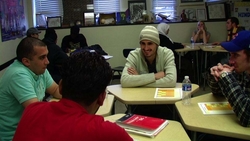 This program provides young adults with the basic building blocks for working well in a team
Northville, MI (PRWEB) April 17, 2009
Positive Diversity, LLC unveiled Exploring Teamwork Essentials©, a training program that educates young adults about the importance of developing team skills, the attributes of high performing teams, and the role of understanding and appreciating diversity in a team setting. Aimed at high school and college students, the program also engages participants in small groups to develop skill in listening and suspending judgment on the perspectives of others.
"Rapidly changing workplaces, driven by technological innovation, and increasing diversity in the U.S. call for new skills," states Positive Diversity Founder Scott Boone. "Research shows that companies seek employees with applied skills in teamwork and diversity. Successful teams establish trust between members, which depends on respecting differences in the individual capabilities, styles and preferences of team members," adds Boone.
Aware of the trend toward team-based work, college professors and progressive high schools are requiring students to complete team projects with greater frequency. Additionally, college administrators are responding to the connection between inclusion and college performance by adding programs that encourage student interaction.
"This program provides young adults with the basic building blocks for working well in a team," explains Boone. "It's also very effective at creating positive, meaningful connections between students."
The 3-step program employs written material, the award-winning documentary ONE: The Movie, and structured small group discussion to challenge and empower students.
"By design, the facilitator's role is very small so the program can be broadly and easily implemented," states Boone. "No institution can afford to commit several highly trained facilitators for co-curricular programming. The program would be a snap for a high school teacher, residence hall advisor or college instructor to lead."
Prior to public launch, Henry Ford Community College humanities instructor William Secrest adopted the program.
"Exploring Teamwork Essentials is a very tight program. My students' ratings were off the charts," offers Secrest. "Beyond building team skills, ONE highlights a way toward a more harmonious world. I look forward to using the program again next semester."
Photo captions
1. Booklet uses cartoons, quotes, and graphs to engage young adults
2. Students engage to listen and suspend judgment
The Firm
The mission of Positive Diversity, LLC is to lead people to discover the positive in others and build skill working in teams. It is fully devoted to celebrating diversity and building bridges between people. We are guided by the belief that progress is best achieved with a strong focus on our positive potential. http://www.positivediversity.com
###