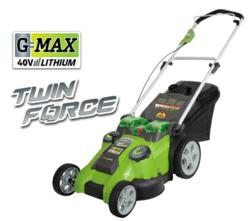 With a quick charge time of 60 minutes for a 2AH battery and 120 minutes for a 4AH battery, this NEW GreenWorks G-MAX Series of lawn tools is a great option when looking to replace gas powered products.
Issaquah, WA (PRWEB) April 10, 2013
Just in time for spring, TheHardwareCity.com is pleased to announce the availability of the technologically-advanced and eco-friendly G-MAX products.
G-MAX tools and lawn care equipment are manufactured by GreenWorks, and the products now sold by The Hardware City are part of the G-MAX 40V Lithium Ion Lawn Tool Series. All tools feature an interchangeable battery platform that allows yard work to be completed easily and efficiently without the sacrifice of power or performance.
All equipment features a 40 v lithium ion battery providing longer run time, higher performance and more efficiency. The batteries feature a rapid charge time of 60 minutes for 2AH batteries and 120 minutes for 4AH batteries. The G-MAX line of equipment offers, not only increased battery power and longevity, but also a simple snap on and off design and an innovative battery charge level indicator.
40V Lithium ion G-MAX products offer unparalleled performance and power and are an environmentally-friendly alternative to traditional gas-powered equipment, leaving no carbon footprint with their usage.
G-MAX items now being offered by The Hardware City include a 15amp electronic shredder, cordless electric leaf blower and two-speed blower and vacuum combination.
"We're excited about the availability of these innovative products," said a spokesperson for The Hardware City. "These items are here just in time for the renewed activity that spring brings with regard to lawn care, and they offer amazing capabilities and a unique lithium-ion battery operating system meaning you can be aware of your environmental impact at the same time as you enjoy outstanding functionality."
As compared to Nicad batteries, lithium ion batteries are also advantageous because they have no negative memory effect, provide consistently fade-free power throughout a run cycle and operate for three times as long.
Greenworks has gained recognition in the tool industry for its development of electric and cordless equipment that allows users to care for their lawn without raising a cloud of harmful emissions. The lithium tools from Greenworks don't require pulling a cord or refilling gas cans, and their charging systems have received the Environmental Protection Agency's ENERGY STAR® approval rating. ENERGY STAR® approved battery chargers are held to tight efficiency guidelines determined by not only the Environmental Protection Agency but also the Department of Energy, and are shown to reduce energy usage by an average of 35 percent from conventional lawn tools.
TheHardwareCity.com is known for providing an expansive online selection of outstanding products including building supplies, home hardware and plumbing supplies, and lawn and garden equipment.
About TheHardwareCity.com
TheHardwareCity.com is an online retailer of a wide range of products, including building and electrical supplies, tools, household supplies, and lawn and automotive supplies. The company strives to provide customers with not only the most high-quality and technologically-advanced products, but also the best value. In business since 2007, TheHardwareCity.com has become the premiere destination for all things home, lawn and automotive related.