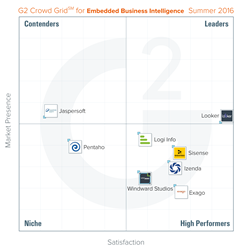 G2 Crowd's recent embedded business intelligence report features Izenda as a high performer on the Grid.
Atlanta, Georgia (PRWEB) August 09, 2016
G2 Crowd, the world's leading business software review platform, on Monday, Aug. 8, released its first Grids for Embedded Business Intelligence (BI) and Self-Service BI reports. These Grids are designed to help businesses make the best BI technology decision. Izenda was named a High Performer in both reports, receiving high customer satisfaction scores.
"G2 Crowd's recent embedded business intelligence report features Izenda as a high performer on the Grid," said Marty Duffy, director of research for G2 Crowd. "Verified user-reviews have indicated that Izenda is a product that is easy to use and it is easy to do business with the company."
Embedded analytics is the future of BI, according to the Eckerson Group in its paper, Embedded Analytics: The Future of Business Intelligence. Independent software vendors embed analytics inside their applications using tools BI vendors provide that make it easy to white label it inside the applications. The Eckerson Group said by increasing the appeal and value of their applications, they aim to improve customer satisfaction and loyalty, and increase revenue.
Izenda joined five other embedded BI vendors and two other self-service BI vendors in being named High Performers. The two reports are based on more than 1,060 reviews from business professionals.
Self-service BI software, including Izenda's application, are designed for business end users without the demand for involvement by IT professionals.
The 18 products ranked in G2 Crowd's Embedded BI and Self-Service BI categories needed 10 or more reviews to qualify for inclusion on the Grids. Only three products, including Izenda, were ranked on both Grids.
G2 Crowd said it bases scores on customer satisfaction (through verified user reviews) and scale (based on market share, vendor size and social impact). Each software solution is categorized as a Leader, High Performer, Contender or Niche on the Grids using these scores.
Key Findings:

Multiple data sources – Many of the products can connect to multiple types of data sources, though for some it takes detailed technical knowledge.
User interfaces varied in functionality – While many of the products had UIs that were simple to start using, advanced work became difficult for several of them. Many of the tools had massive extensibility that was difficult for non-technical users to achieve.
Simple visualizations – Many of the products provide a simple set of visualizations, which some reviewers wished were improved and modernized.
Report creation – Some of the products required a technically savvy user to create reports, while for others it was a simple drag-and-drop operation.
User Reviews Help Izenda Earn High Performer Rankings
Current Izenda users said they like the BI platform because it gives them the ability to implement it seamlessly into their applications. It offers their users dashboards, custom reports and ad-hoc reporting right within their own applications. And Izenda is easy to use.
"Most of our customers are not tech savvy and ease of use was our number one priority. Izenda was able to achieve this goal perfectly," a healthcare software vendor said in his review earlier this month.
"Izenda allows seamless white label integration for non-technical users but also allows technical users to customize all areas to provide a powerful solution that matches their core solution," another vendor wrote in his review.
A higher education software vendor called Izenda's method to allow data sources to be linked and connected with ease a breakthrough for end user reporting.
About lzenda
Izenda is a self-service embedded business intelligence platform designed for independent software vendors, solutions providers and enterprise users. Izenda embeds seamlessly in applications to deliver BI directly to the people who need it most. Our integrated BI platform allows end users to easily analyze, visualize, and share valuable data and insights in real time. More than 10,000 organizations use Izenda's embedded BI and analytics platform on a daily basis. To find out more about Izenda's platform, visit https://www.Izenda.com.