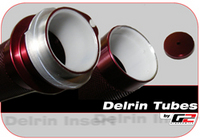 In the future, all our tubes will include the Delrin inserts, the response to them has been great.
Rock Falls, IL (PRWEB) October 8, 2008
G2 Ergonomics releases their latest motorcycle innovation - the G2 Delrin Throttle Tube which offers riders the proven G2 control cam options with new Delrin bushings. These bushings eliminate aluminum to aluminum contact for a throttle feel that rivals a ball bearing - yet won't corrode and freeze up like metal bearings.
With professional off-road champions like 8 time National Enduro Champion Mike Lafferty using G2 products, it's no wonder that others are catching on. The new G2 throttle tubes are a vast improvement over stock tubes - offering riders more throttle control resulting in faster times, improved rider stamina and smooth operation. Delrin is lightweight, low-friction, wear resistant and self-lubricating -- a far superior alternative to ball bearing tubes which degrade over time.
Sam Wancket, co-owner of G2 Ergonomics, says, "In the future, all our tubes will include the Delrin inserts, the response to them has been great."
G2 Ergonomics burst onto the motorcycle performance market five years ago when co-owners and riding buddies Sam Wancket and Gary Gibbs were discussing how to improve lap times on the track. They prototyped and developed the G2 throttle cam system which gives riders the option to change cams based on riding conditions. With overwhelming response from the base of riders out there, they have expanded their product line to other markets such as street, ATV, and Harley Davidson.
G2 has made their mark on the motorcycle performance market with constant product upgrades and innovations. With the G2 Quick-Turn Throttle tube and Quick-Turn throttles for Harley Davidson, they show no signs of stopping either.
Riders currently using G2 products are Mike Lafferty, Grant Langston, Paul Whibley, Broc Sellards, Yamaha Supermoto Team, Paul Edmondson and John Dowd. They are planning the release of more products this year and early next year. We can't wait.
###