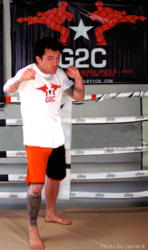 Leben is a true warrior. This is what he's been fighting for his entire life.
San Diego, California (PRWEB) June 30, 2011
There are quite a lot of questions that both competitors need to answer before UFC 132 comes around. First, does the infamous "Axe Murderer" Silva still have what it takes to compete against the hungry lions of the UFC, especially in light of the fact that he has only battled two times in the last two years due to injuries. Meanwhile, can G2C Athletics' very own Leben become more than the so-called "gatekeeper" that many fight aficionados call him due to the fact that he has yet to fight for a title? By all accounts, this fight is something that both Leben and Silva wished for, with Leben wanting to fight his hero, and Silva wanting to prove that he still has "it" at this point in his career by fighting an exciting striker.
Fight fans are getting a great matchup that will be exciting and beneficial for both parties. This is one of the most fan-friendly matches out there, because both men have earned the reputation of being heavy-handed brawlers who love a good scrap. They don't know how to take a step back and when it comes to aggression, it's nothing but fireworks with these two. Unlike other combat sports that have produced bombs, UFC is here to offer a good show, as evidenced by their matchmaking. As far as the truly hardcore fight fans are concerned, the main question running through their minds is: "Is Chris Leben ready to face an MMA legend like Wanderlei Silva?"
For all intents and purposes, the upcoming bout will serve as the dangerous Leben's acid test or baptism by fire. If he truly wants to become a legend in his own right and prove to others than he is no gatekeeper or journeyman, then this is the perfect opportunity to showcase what he has got. He may be considered as an underdog against the legend Silva but this is not Leben's first dance. Silva's age and the fact that this is his first time fighting in the UFC's middleweight division is to Leben's advantage, but the "Crippler" is still facing one of MMA's most accomplished fighters who ranks up there with another Silva (first name Anderson) and George St. Pierre.
However, like a true G2C fighter who understands the sacrifices and struggles required to achieve one's ultimate goal, Leben has been training very hard for this fight and will undoubtedly give it his all. Leben fans only hope that he will learn from his past mistakes of having to take a punch in order to get a punch, which has gotten him into trouble against elite strikers. But Leben is a true warrior. This is what he's been fighting for his entire life. So as expected of a G2C fighter, once the bell rings and he locks horns with one of the greatest fighters in the sport, Leben will give it his all and never give up.
G2C Athletics is a symbolic brand whose mission is to be a positive inspiration to those who are willing to take on a challenge and fight for their dreams.
For more information, please visit http://www.g2capparel.com
# # #