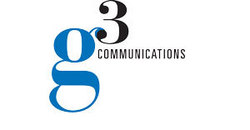 Startups and fast-moving change-oriented companies like G3 Communications are grabbing market share, aggregating audiences, finding new ways to support communities and innovating, while large, well-established companies often find themselves a step behind
Hasbrouck Heights, NJ (Vocus) July 15, 2010
While many media companies are struggling, G3 Communications and its divisions, Retail TouchPoints, DemandGen Report and Demand Creation Specialists, continue to see substantial growth, based largely on their focus on using web 2.0 channels and tactics to connect buyers and sellers.
"Startups and fast-moving change-oriented companies like G3 Communications are grabbing market share, aggregating audiences, finding new ways to support communities and innovating, while large, well-established companies often find themselves a step behind," said Tony Silber, Editor and Publisher at FOLIO.
Highlights of G3's growth:

120% increase in year-over-year revenue growth
Seven consecutive quarters of triple digit growth
Expanded staff size by sixty percent over the past 12 months
"We are really proud of our growth, but also proud of the success our clients are having with the custom content and lead nurturing programs we have put together in the past six months," said Sal LoSauro, Vice President of G3 Communications. "We have an extremely high renewal rate because we take the time to learn about our clients' markets and their competitive positioning. "Part of our core value proposition is developing content messaging that complements the strategic direction of our clients and using our expertise in the demand generation space to ensure they maximize their results with those offers."
In addition to its revenue growth, each of the G3 Communications brands have substantially raised their profile within their specific markets:
Retail TouchPoints served as the official media partner for the recent CRMC Conference in Chicago and is now feeding the content engine for the CRMC newsletter.
Retail TouchPoints has been named the official media partner for the IBM Retail User Group (IRUG).
DemandGen Report was recently featured as a lead presenter as part of the DemandGen Academy during a session on "Deploying, Measuring and Optimizing Digital Media For End-to-End Engagement," and presented at the Sales 2.0 conference in Boston on June 28, 2010.
G3's President Andrew Gaffney was a featured presenter at the recent Folio Show during the "Building a Media Revival Through Entrepreneurship," session.
Demand Creation Specialists has introduced a new blog and webinar series under the Content Connection banner, featuring recent authors Ardath Albee "E-Marketing Strategies for the Complex Sale" and Joe Pulizzi "Get Content, Get Customers". The next session in webinar series is slated for August 12th and will feature Jill Konrath, author of the new book "Snap Selling."
G3 Communications was founded in 2006 to provide customized content solutions for business-focused clients. Since its formation, G3 has doubled its revenues each year by focusing on providing customized content and lead generation programs for BtoB marketers, which show demonstrable ROI and support marketing and sales initiatives. The company's team of content professionals provides expertise in creating call-to-action and thought leadership content.
Please visit http://www.gthreecom.com for more information.
# # #