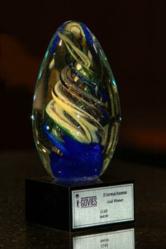 "Risk360 is easy to use, customizable, and budget-friendly." - Brian McCabe
Jupiter, FL (PRWEB) April 16, 2012
RISK360™, from G4S Secure Solutions USA (G4S), the new incident and case management analytics software designed to manage risk, improve business performance and help reduce costs wins Gold at the 2012 'Govie' Awards hosted by Security Products magazine.
The 'Govie' Awards honor outstanding government products in a variety of categories. Finalists and winners were announced at the Government Security Conference & Expo, held April 2nd-4th at the Walter E. Washington Convention Center in Washington, D.C.
"RISK360 is truly unique. It was developed in collaboration with our customers to capture and manage incident data more efficiently. It is easy to use, customizable, and budget-friendly. " said Brian McCabe, Chief Development Officer G4S. "We are proud that RISK360 has been recognized with a Govie Award".
RISK360 is proprietary Software as a Service (SaaS) that organizations can successfully implement with minimal training and overhead. It is designed with the customers' budgets in mind. RISK360 enables organizations to effectively manage the incident lifecycle including reporting, investigation and case management. Authorized users can report, manage or assign an incident either at their desk or from a mobile device, and anyone in an organization can report an incident through a text message or e-mail. With RISK360, organizations can streamline their incident management processes and gain visibility into the associated cost drivers, thereby supporting continuous improvement and cost reduction initiatives.
"RISK360 has been hugely successful for our early adopters" said McCabe "Other such tools available in the marketplace are expensive, difficult to use and not easily customizable across different industries. RISK360 changes that. It gives management the information and tools to make better decisions, improve compliance and measure ROI using real-time data".
G4S Media contact:
Lew Pincus
1(561)339-3111
lew.pincus (at) usa.g4s (dot) com
About G4S Secure Solutions
G4S Secure Solutions is the nation's leading security company, providing a wide range of security services and technology solutions. The G4S expertise in analyzing security needs and developing specialized programs enables customers to reduce the total cost of ownership for security and related services, and focus on quality improvement and risk reduction. For more information visit: http://www.g4s.com/us
About G4S plc:
G4S is the world's leading security solutions group, which specializes in outsourcing of business processes in sectors where security and safety risks are considered a strategic threat. G4S is the largest employer quoted on the London Stock Exchange and has a secondary stock exchange listing in Copenhagen. G4S has operations in more than 125 countries and more than 635,000 employees. For more information on G4S, visit http://www.g4s.com.