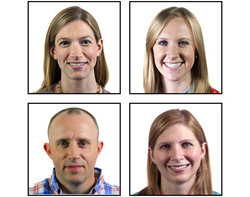 GA is dedicated to hiring the best strategic and creative talent out there
Chicago, IL (PRWEB) June 30, 2014
GA Communication Group added two valuable assets to the Account Management team this quarter. Megan Snyder joined GA in late March as an Account Supervisor. Megan previously worked at Havas Worldwide as a Senior Account Executive where she was the main client contact for three national consumer packaged good brands. Megan earned her B.S. in business, majoring in marketing, from Miami University. GA also welcomed Kathleen Ryan as an Account Supervisor this May. She previously worked at The Marketing Store Worldwide with their Client Services group supporting national and global promotions, focusing on packaging, digital, and point of sale materials. Kathleen has a B.A. in English from Villanova University.
GA has also bolstered its Creative team with the addition of Roxanne Croxall and Jeff Creighton. Roxanne officially joined the GA team as a Writer in April 2014. Previously Roxanne was a Senior Technical Marketing Associate for KEYENCE Corporation where she created marketing and sales materials as well as supplemental technical materials for digital microscope products. Roxanne earned her degree in Neurobiology from Purdue University. Jeff joined GA as a Visual Designer in May. Previously he was freelancing as a graphic designer dealing in print, web, marketing, and logo/identity projects for multiple organizations. Jeff has a degree in Graphic Design, Fine Arts and Instructional Technology and Telecommunications from Western Illinois University.
"GA is dedicated to hiring the best strategic and creative talent out there," says Nancy Finigan, President. "The addition of Megan, Kathleen, Roxanne, and Jeff is exciting as it allows us to augment the strong talent already serving the needs of our growing business."
About GA Communication Group
GA Communication Group is a full-service communication agency with a specific expertise in the healthcare space. With diverse clients and brands that range from highly scientific, specialized clinical therapies to consumer and OTC products, GA enters its 32nd year having doubled size in both revenue and staff since 2008, earning recognition from INC. 500 as one of the nation's fastest-growing private businesses every year for the last four years. GA has long been valued for its strategic insight, creative ideas, and execution, and has evolved and developed significant core competencies and expertise in building and delivering campaigns in all digital, social, and mobile media platforms.
For more information, visit http://www.gacommunication.com.