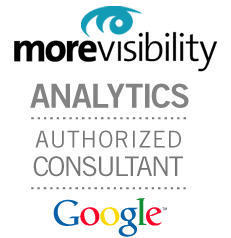 Earning the GAAC designation was a rigorous two-year process
Boca Raton, Florida (PRWEB) March 26, 2009
MoreVisibility, one of the world's leading Search Engine Marketing/Optimization and design firms, today announced it has become a Google Analytics Authorized Consultant (GAAC).
The noted search engine optimization and search engine marketing agency is one of a limited number in the United States to earn the GAAC designation.
Being a GAAC agency means MoreVisibility provides technical support and programming assistance to properly install Google Analytics on a Website, plus helps site owners interpret the data and train them to use the program for maximum benefits.
Google established the GAAC program so those looking for consulting and guidance would receive assistance from qualified organizations.
"Earning the GAAC designation was a rigorous two-year process," said Andrew Wetzler, president of MoreVisibility. "We're proud that our agency now offers such a wide range of Internet marketing services from search engine optimization and marketing to analytics, social media, affiliate marketing and optimized Website design. With the GAAC designation from Google, we are confirmed as truly a full service agency for any size company's Internet Marketing needs."
"Because of our nearly decade-long history of providing high level consultancy to the e-commerce industry, we bring a personalization to the analytics services we provide as a GAAC , which will be most welcome by our current and future clients", said Wetzler.
About MoreVisibility
Founded in 1999, MoreVisibility is one of the world's leading Search Engine Marketing and Search Engine Optimization firms, having helped hundreds of Fortune 1000 companies and small businesses increase qualified traffic to their Web sites. In 2005, 2006, 2007 and 2008, MoreVisibility was named to the Inc 500/Inc 5000 list of the nation's fastest growing privately owned firms. MoreVisibility is a Google AdWords Certified Company, Google Analytics Authorized Consultant, Yahoo Ambassador and a member of the MSN Search Council. MoreVisibility boasts high client retention through a team of 35 senior professionals who deliver superior performance and measurable results. Notable clients served include The Metropolitan Museum of Art, The Mayo Clinic, Travel Nevada, Ritz Carlton Residential Suites, Clemson University and Perillo Tours. The company is based in Boca Raton, Fla. and can be found on the web at http://www.MoreVisibility.com
Google and Google Analytics are trademarks of Google Inc.