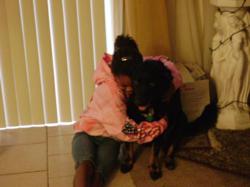 Miss Douglas has received twitter messages from celebrities and a phone call from President Obama, but after her big win, Gabby said, "I just want to see my dogs!"
Boca Raton, FL (PRWEB) August 06, 2012
On August 2nd, 16-year old Gabrielle Douglas became the first African-American to win the all-around Olympic gold medal in women's gymnastics, in an amazing show of talent, skill, and artistic flair.
Douglas started training in gymnastics at age six at the urging of her older sister. In 2010, at age 14, she moved from her home in Virginia across the country to West Des Moines, Iowa to train under Liang Chow, the former coach of 2008 Olympic Gold Medalist Shawn Johnson. She lived with a host family in Chicago and left behind the comforts of home – including the two dogs she shared her bed with – in order to reach her ultimate goal.
Now that she's won the gold, what's next for America's newest champion?
Miss Douglas has received a host of twitter messages from celebrities and even a phone call from President Obama, but, in an interview with Us Weekly after her big win, Gabby said, "I just want to see my dogs!"
"It's clear how much Gabby loves her dogs. They were one of the first things she talked about after her huge gold medal win," said Pegi Dahl, contributor for Dogington Post. "It's always difficult to leave a pet for any reason. We look forward to hearing – and reporting – about her homecoming and her reunion with her two furry best friends!"
Dogington Post sends congratulations to Miss Douglas for bringing home the gold. And, in light of the famous athlete and the love for her dogs, the online dog news site addressed the difficulties of leaving a dog behind.
The site published articles about dog separation anxiety, dog boarding, dog-friendly hotels, and several articles about traveling – with or without taking a dog along.
For more information about Dogington Post and their effort to reach out to Gabby Douglas and other dog parents dealing with separation, visit http://dogingtonpost.com and check them out on YouTube.
About Dogington Post:
DogingtonPost.com was created for the love of dogs. It promises a forum of informative articles, newsworthy dog stories, health and breed information, and heartwarming videos. The site addresses current issues affecting dogs and their human parents – from serious health concerns to lifestyle issues on feeding, grooming and the overall well-being and mental health of dogs. It is the Internet newspaper, all about dogs.