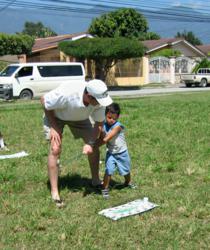 "They asked me every day when they could golf," Gabelmann said.
COLORADO SPRINGS, Colo. (PRWEB) May 31, 2013
This spring, Garden of the Gods Club Golf Director Gene Gabelmann, PGA, had a unique opportunity to introduce Honduran children to the game of golf. When visiting Honduras to help Hope House Children's Home construct buildings on its new site, Gabelmann took along a nine-hole BirdieBall golf set donated by BirdieBall and the PGA of America's Colorado section. At the construction site, he set up a makeshift driving range that attracted about 25 local children.
"They asked me every day when they could golf," Gabelmann said. "It got to the point that they would set up the range themselves when I was busy laying block for one of the houses." He drew lines in the dirt to show the children where their feet should go, showed them how to grip the golf club properly, and then demonstrated a golf swing.
Since none of the children spoke English, and Gabelmann knows very little Spanish, he had to keep his teaching simple. "One little girl even got a hole in one from about 25 yards out," Gabelmann said. "You don't need to over-teach kids."
Gabelmann also took the golf equipment to Hope House's current site in San Pedro Sula and set up a range in an open grassy area. "[Two children who] do not engage in team sports like soccer and baseball surprisingly took to golf and couldn't get enough," he said.
Garden of the Gods Club Members Ken and Rae Driscoll graciously fund and coordinate mission projects like this one in Honduras. The new site for Hope House Esperanza is set in a rural location about 30 miles from San Pedro Sula and is expected to serve 100 orphaned children. To learn more, visit http://www.hopehouseproject.org.
About Garden of the Gods Club
Located in Colorado Springs, Garden of the Gods Club is a legendary private country club featuring a 27-hole championship golf course, fine and casual dining, a sports club, a recreation center, a spa and salon, outdoor and indoor tennis courts, two swimming pools, 69 luxury guest rooms, private event space and breathtaking views of Pikes Peak and the world-famous Garden of the Gods Park. To learn more, please visit Garden of the Gods Club's website at http://www.gardenofthegodsclub.com.