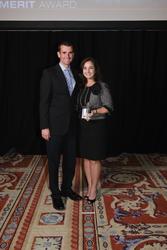 Pursuing silver-level LEED for a new construction certification was an ambitious step for an apartment development
Atlanta (Vocus) October 30, 2009
Gables Residential is proud to announce that it recently received two awards at the Multifamily Executive and Developer Awards ceremony held in Las Vegas on October 13, 2009. Presented annually, the MFE Awards recognize the best in multi-family development, construction, marketing and company achievement.
Lynette Hegeman, Vice President of Marketing for Gables Residential accepted the Grand Award for Takoma Park, Project of the Year - Green. Standing out among many nominees, Takoma Park and its LEED-certified, sustainable and eco-friendly design impressed the judges with the projects innovation and integration of sustainable living elements in a multifamily dwelling. Gables Takoma Park, located in a Washington D.C. neighborhood, was designed and developed by Gables Residential and received LEED Silver certification for energy use, lighting, water and material use as well as incorporating a variety of other sustainable strategies. LEED was established for market leaders to design and construct buildings that protect and save precious resources while also making good economic sense. The Gables Takoma Park project efficiently uses natural resources making an immediate, positive impact that will tremendously benefit future generations to come.
The decision to build a "green" project was based on the company's focus on building sustainable communities and its commitment to preserving natural resources as well as the local community's independent and environmental mindset of embracing eco-friendly development. "Pursuing silver-level LEED for a new construction certification was an ambitious step for an apartment development", says Jorgen Punda, Regional Vice President, Investments for Gables Residential. "We're familiar with the neighborhood and the culture in that part of the city, which led us to pursue the silver-level certification", he says. The interior décor was deliberately designed with the use of sustainable materials and an earthy, natural palette. Every aspect of the building embraced sustainable resources including landscaping, construction and interior design.
A Merit Award for Marketing and Advertising was accepted by Jason Tripp, Marketing Director for Gables Residential for the "Your Shade of Green" campaign. The campaign was designed by Robinson Creative of Southlake, Texas. Embodied in the campaign was an organic theme and healthy lifestyle images. All collateral and supporting materials were printed using 100% recycled papers. A novelty postcard was produced on seeded paper that when watered will grow wildflowers.
The year's winners were chosen by a group of industry judges located throughout the country. "In a truly tough economy, this year's winners not only showcase the talent and creativity of the multifamily industry but also the business acumen required to build projects capable of revitalizing communities," said Rachel Azoff, Managing Editor of Multifamily Executive. "We were truly impressed and humbled by the scope of work, the designs, and the overall developments this year."
About Gables Residential
Gables Residential is a privately held REIT owned by a closed-end fund managed by a joint venture between ING Clarion and Lehman Brothers. With a mission of Taking Care of the Way People Live, Gables Residential has received national recognition for excellence in the management, development, acquisition and construction of luxury multi-family communities in high job growth markets. Gables Residential owns, develops and manages multi-family communities and mixed-use developments in Atlanta, Austin, Dallas, Houston, South Florida, Southern California, and metropolitan Washington, D.C. Additionally, it has third-party management operations in the Chicago, New York, Phoenix, Central and North Florida, and Washington State markets. Gables Residential enjoys a healthy portfolio with approximately 38,000 apartment homes under management, including a corporate-owned portfolio of 62 communities comprising more than 15,000 apartment homes. An additional 2 communities are under construction, comprising approximately 500 apartment homes. Gables also has the ability to develop another 4,000 apartment homes through its shadow pipeline of undeveloped land owned. For more information please visit http://www.gables.com
Media Contact:
Lynette Hegeman
Gables Residential
770-438-5527
###