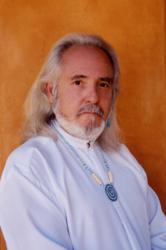 Gabriel of Urantia offers step-by-step guidance to the 99%'s success and viable solutions in creating real and lasting change.
Tubac, Arizona (PRWEB) February 14, 2013
What will it take to bring the hopes, dreams, and aspirations of the Occupy/99% movement to fruition? Many identify the problems, but what is the solution?
"Who's Afraid Of The Big Bad Wolf? — A Handbook On How To Defeat The 1%" is a newly released book that is a compilation of articles written by Gabriel of Urantia (cofounder of one of the largest EcoVillages in the world functioning for more than 23 years) to address the deeper issues involved within the Occupy/99% movement. His solutions offer step-by-step guidance to the 99%'s success and viable solutions in creating real and lasting change, including the need for true leadership and how that can be accomplished.
Who's Afraid Of The Big Bad Wolf? includes a color photo gallery taken at various Occupy events around the country during 2011/2012, beginning with Occupy Wall Street in Zucotti Park, where a team from Global Change Multi-Media (a nonprofit media division established by Gabriel of Urantia) traveled to cover the stories and support the movement.
Throughout the book, Gabriel explores at deeper levels the real solutions needed in order for the 99% to truly take the power out of the hands of the 1%, who have held it throughout the history of our planet. The author founded the Spiritualution(SM)—Justice to the People! movement focused on protecting the human rights of all people, with emphasis on the responsibility of the baby boomer and X-generations as well as indigenous communities to step up and lead.
Gabriel of Urantia offers ideas implemented by effective tactical leaders of history, including George Washington, and used by the Colonists to win the revolution. He addresses how these methods can be successfully implemented around the globe today. Gabriel also addresses in detail the need for people worldwide to establish communities and have things in common, while identifying the loneliness, stress, and lack of human compassion and support existing in urban life and the importance of coming back to nature.
Additional helpful information — such as The Be Aware Proclamation & Answers, Unoccupy Your Couch — 10 Points To Become Proactive In, the 5 Principles Of Planetary Peace, and the song lyrics of To Be Free, a tribute to the Occupy movement by Global Change Music nonprofit record label band, Van'sGuard — all contribute to making a wonderful resource handbook that is a must read for everyone in the 99%.
"Who's Afraid of the Big Bad Wolf? - A Handbook on How to Defeat the 1%" by Gabriel of Urantia is published by Global Community Communications Publishing. For more information or to purchase the book, visit the Global Change Tools website.