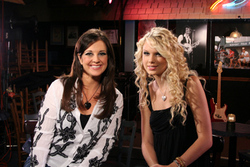 GAC's commitment to connecting country artists, their music and the fans is resonating loudly with the music community, our affiliate partners and our viewers
Nashville, TN (PRWEB) December 10, 2007
Great American Country television network, the leader in country music entertainment, added more than 8 million new subscribers in the past year and is now available to country music fans in more than 52.6 million households, continuing GAC's record as one of the fastest growing cable networks in the country.
An additional 2 million country music fans may now enjoy GAC programming in parts of Long Island, New Jersey, New York City and Connecticut, following the network's early December launch by Cablevision Systems, the leading cable provider in the New York metropolitan area. GAC is located on Cablevision channel 184.
GAC's expanding national footprint makes the television network available to cable subscribers in each of the top 140 U.S. markets, including recent GAC additions in the New York, Los Angeles, Philadelphia, Dallas and Miami markets.
"GAC has become the destination for anyone interested in country music entertainment," said Ed Hardy, GAC president. "As we grow, our viewers are seeing more and more top country music artists who choose GAC as their platform to reach millions of passionate country music fans."
This fall, GAC takes on the additional distinction as "The Home of Garth Brooks", premiering a number of exclusive programs devoted to the top-selling individual artist in music history, and bringing Brooks' first televised concert in six years to GAC viewers.
GAC is sponsoring the current concert tours of Brad Paisley and Trace Adkins, and presented country music fans the only live coverage of Josh Turner's recent induction as a member of the Grand Ole Opry, along with an exclusive one-hour documentary, Josh Turner: My Road to the Opry.
"GAC's commitment to connecting country artists, their music and the fans is resonating loudly with the music community, our affiliate partners and our viewers," Hardy said.
Carrie Underwood chose GAC's Opry Live as the television platform to debut her new single, "So Small." Opry Live delivers a live country music performance into millions of living rooms each week. In addition to Carrie Underwood, recent performers have included Trace Adkins, Dolly Parton, Blake Shelton, Martina McBride, Little Big Town and dozens of other top country music artists.
In 2007, GAC has presented viewers with exclusive original programming or music specials featuring top artists such as Garth Brooks, Kenny Chesney, Brad Paisley, Keith Urban and Alison Krauss. The network's first reality series, The Hitmen of Music Row, took GAC viewers behind the scenes in the lives of four of Nashville's most prolific songwriters.
"We are having a great time showcasing these talented artists on GAC, and helping them to connect with the growing legions of country music fans. We see bright growth prospects ahead," Hardy said.
GAC touches audiences in many other ways. The GAC Bus, a customized motor coach, plies the highways of America each summer and attends many of country music's top concerts and festivals. GAC maintains a major presence at the annual CMA Music Festival in Nashville, and this year produced a 13-part Riverfront Concert Series, featuring many of the top live performances from the festival.
GACTV.com each month features a different country music Artist of the Month, frequently giving website visitors the chance to win concert tickets, trips and other prizes.
About Great American Country (GAC)
Great American Country is the leader in country music entertainment. As America's main street for the widest variety of country music, its artists and the lifestyles they influence, GAC features original programming, special musical performances and live concerts, as well as music videos, and is the exclusive television home of the Grand Ole Opry. GAC is available in more than 52.6 million households and online at http://www.GACTV.com.
1 Nielsen Media Research, December 2007/December 2006
###