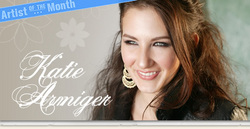 Knoxville, Tenn. (PRWEB) February 10, 2009
Singer/Songwriter Katie Armiger is honored by Great American Country (GAC) this February as the "Artist of the Month" and GACTV.com is celebrating with loads of special "Katie Kontent," including a ton of live performance videos as well as GAC's exclusive behind-the-scenes Web series "Kapturing Katie." Plus, with Valentine's Day approaching, fans nationwide will have the unique chance to hit the studio with Katie, helping her to write what could end up being her next big love ballad. (http://www.gactv.com/gac/ar_az_katie_armiger)
The grand-prize winner of the "Kapturing A Love Song With Katie Armiger" Sweepstakes will win a trip to Nashville to write with Katie and be there for the recording. The resulting track will be made available for download on iTunes. In addition, the winner will receive a signed plaque with an autographed lyric sheet and a $500 gift card from FYE. (Register once per day through Feb. 27 at http://www.GACTV.com.)
Don't be fooled by Katie Armiger's young age - at only 17 she's got one of the strongest voices in the music industry and is one of country's brightest rising stars. She stormed onto the scene in 2006 with her hit song "17 in Abilene" after winning "Houston's Best Country Singer" contest. Since then, she's enjoyed hits with "Make Me Believe" and "Unseen." With her latest single "Trail of Lies," Katie recently set a record for the most one-week adds for a female independent artist in the history of the R&R Indicator Chart. "Trail of Lies" is the third single from her critically acclaimed second album, Believe.
About Great American Country (GAC)
Great American Country is the leader in country music entertainment. GAC delivers to viewers the widest variety of country music, its artists and the lifestyles they influence. GAC broadcasts original country music programming, country music performance specials, live concerts, music videos, and is the exclusive television home of the Grand Ole Opry. GAC is available in more than 55 million households and online at http://www.GACTV.com.
Scripps Networks Digital
Scripps Networks Digital is a diversified, multi-platform programmer that delights millions daily with award-winning content in the home, food and living categories. Scripps Networks Digital's Web sites -- HGTV.com, FoodNetwork.com, DIYnetwork.com, FineLiving.com, GACTV.com, Recipezaar.com, HGTVPro.com; and the newest FrontDoor.com -- are powered by engaging content, interactive tools and social spaces that take fans of Scripps Networks cable brands further into the story and offer online users information and inspiration to fuel their passions. Scripps Networks Digital also distributes content to mobile and online partners, providing lifestyle solutions virtually anywhere, anytime. Log on to the Scripps Networks Online Media Center for the latest brand news, useful photos and graphics, detailed programming information, contacts and current research. (http://newsroom.scrippsnetworks.com)
###