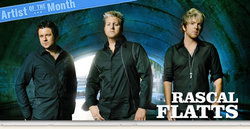 I'll Be Home For Christmas.
Knoxville, TN (PRWEB) December 8, 2008
For the month of December, GACTV.com honors Rascal Flatts for the band's unwavering success in country music. Eight years and five studio albums since their debut on the country music scene, the members of Rascal Flatts are soaring high. With the popularity of Still Feels Good, Gary LeVox, Jay DeMarcus and Joe Don Rooney continue to top country music charts and attract new fans. (http://www.gactv.com)
RF fans can watch exclusive interviews with the guys as they reveal intimate and fun details about their personal lives and their music. While at GACTV.com, viewers can read the group's musical biography and check out tons of photos. Die-hard fans will love GAC's Rascall Flatts Trivia Challenge. Plus, fans can upload and share their best photos of Rascal Flatts in GAC's Ultimate Fan Photo Gallery.
This month the trio releases Rascal Flatts Greatest Hits Volume 1, a 13-track album featuring hits like "What Hurts the Most" and "Life is a Highway."
"[The album] perfectly captures the way we've grown as songwriters, as musicians and as people, and it's the proudest I've ever been of a project," LeVox said of the group's first hits collection. Appropriate for the season, the two-disc set includes a Christmas bonus: Rascal Flatts' versions of the Christmas classics "White Christmas," "Jingle Bell Rock" and "I'll Be Home For Christmas."
About Great American Country (GAC)
Great American Country is the leader in country music entertainment. GAC delivers to viewers the widest variety of country music, its artists and the lifestyles they influence. GAC broadcasts original country music programming, country music performance specials, live concerts, music videos, and is the exclusive television home of the Grand Ole Opry. GAC is available in more than 54 million households and online at http://www.GACTV.com.
Scripps Networks Digital
Scripps Networks Digital is a diversified, multi-platform programmer that delights millions daily with award-winning content in the home, food and living categories. Scripps Networks Digital's Web sites -- HGTV.com, FoodNetwork.com, DIYnetwork.com, FineLiving.com, GACTV.com, Recipezaar.com, HGTVPro.com; and the newest FrontDoor.com -- are powered by engaging content, interactive tools and social spaces that take fans of Scripps Networks cable brands further into the story and offer online users information and inspiration to fuel their passions. Scripps Networks Digital also distributes content to mobile and online partners, providing lifestyle solutions virtually anywhere, anytime.
# # #