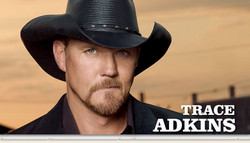 I Came Here To Live
Knoxville, Tenn. (PRWEB) March 6, 2009
Country fans are in for an all-American treat only on GACTV.com with ACM award-nominated musician Trace Adkins. Users can enjoy eight performance clips from "X (Ten) Days," his ten-day tour of various military bases in Iraq and Afghanistan. (http://www.gactv.com/gac/ar_az_trace_adkins)
With 53,000 pounds of equipment and 30 crew members, Adkins gave a fully loaded experience to more than 10,000 Unites States military personnel in partnership with the USO. The online performance videos include behind-the-scenes footage of his numerous adventures abroad such as riding in a Black Hawk helicopter, waiting out a sandstorm, and participating in target practice.
In one clip, Adkins enjoys a heartfelt encounter with a soldier fan who has lyrics from Adkins' salute to American armed forces, "I Came Here To Live," tattooed across his arms. "It's hard to describe what that feels like as a singer," Adkins exclaimed, "To have somebody take a lyric from one of your songs and have it tattooed on their body."
Adkins also gives the inside scoop on his encounters with look-a-likes, his secrets to inner confidence, and his favorite ways to relax - if bush hogging is considered relaxing! GACTV.com users can also enjoy exclusive interviews with the singer as he discusses his music, his home, and his five daughters. (http://www.gactv.com/gac/ar_az_trace_adkins)
About Great American Country (GAC)
Great American Country is the leader in country music entertainment. GAC delivers to viewers the widest variety of country music, its artists and the lifestyles they influence. GAC broadcasts original country music programming, country music performance specials, live concerts, music videos, and is the exclusive television home of the Grand Ole Opry. GAC is available in more than 55 million households and online at http://www.GACTV.com.
Scripps Networks Digital
Scripps Networks Digital is a diversified, multi-platform programmer that delights millions daily with award-winning content in the home, food and living categories. Scripps Networks Digital's Web sites -- HGTV.com, FoodNetwork.com, DIYnetwork.com, FineLiving.com, GACTV.com, Recipezaar.com, HGTVPro.com; and the newest FrontDoor.com -- are powered by engaging content, interactive tools and social spaces that take fans of Scripps Networks cable brands further into the story and offer online users information and inspiration to fuel their passions. Scripps Networks Digital also distributes content to mobile and online partners, providing lifestyle solutions virtually anywhere, anytime. Log on to the Scripps Networks Online Media Center for the latest brand news, useful photos and graphics, detailed programming information, contacts and current research. (http://newsroom.scrippsnetworks.com)
###