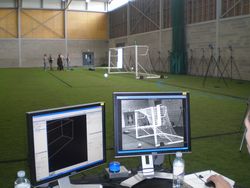 Oxford, UK (PRWeb UK) September 14, 2010
Vicon, developer of motion capture products, today announced its involvement in the making of this week's The Gadget Show. Looking at how technology could be used in football, Vicon demonstrated goal line technology with its state of the art T40 motion capture (mocap) cameras.
The demonstration took place at the Alan Higgs Centre in Coventry and attempted to answer the question: why isn't technology used in football? By looking at a situation similar to the disallowed Lampard goal in this year's world cup, Vicon proved – with sub millimetre accuracy – that you can't argue with technology.
Tim Wagg, researcher at The Gadget Show explained why they chose to work with Vicon.
"We were told to speak with Vicon as they have some of the best technology in the market for tracking. After demoing some of Vicon's technology in previous episodes, we knew the quality of the product was already up to scratch.
We wanted to build something which didn't already exist and work with a team that was able to think outside of the box, but keep to our strict time frames. We knew we had made the right choice."
The 10 camera T40 system was set up in a semi-circle behind the goal and the ball was covered in reflective tape ensuring the near infra-red mocap cameras would pick up its location as it crossed the line.
After an hour of filming the team were overwhelmed by the results. Wagg continued: "The sheer accuracy of the system was exactly what we needed and the fact that Vicon was able to implement their products into such a different application made our filming day that much better.
The technology behind the build was simply fantastic and the accuracy provided particularly impressed us. Combining this hardware with the extremely visual and impressive software elements made for a great piece of TV. We can only hope that Fifa look at using technology in football in the future."
The show, presented by Ortis Deeley and featuring expert analysis from Graham Poll, was screened on Channel Five last night. http://demand.five.tv/Episode.aspx?episodeBaseName=C5150600007
For more information about Vicon please visit YouTube, Twitter or Facebook.
About Vicon
Academy Award®-winning Vicon is the world's largest supplier of precision motion tracking systems, and match moving software. It serves customers in the CG animation industry, film, visual effects, computer games, and broadcast television, as well as engineering and life science industries. Vicon operates in four offices worldwide, including its Los Angeles-based Entertainment headquarters: a 26,000 square-foot facility equipped with three performance capture stages for Vicon's service company House of Moves.
Vicon is a subsidiary of OMG (Oxford Metrics Group - LSE: OMG), plc., a group of technology companies that produces image-understanding solutions for the Entertainment, Defense, Life Science and Engineering markets. Other holdings include: 2d3, a manufacturer of specialized image understanding software for defense applications; Yotta DCL our highways surveying business in the UK; and Yotta MVS, a leading US provider of data collection services for the assessment of property taxation.
Vicon and OMG global clients include: Life Science leaders University of Pennsylvania, the VA Hospitals, Shriners Hospitals for Children, Titleist Golf, The Andrews Institute; Engineering industry leaders Ford, BMW, Airbus, Lockheed, Pratt-Whitney, NASA, Caterpillar, International Truck, and Toyota; and Entertainment companies Sony Pictures Imageworks, Sony Computer Entertainment, Industrial Light and Magic, Sega, Nintendo, Ubisoft, Vivendi, Electronic Arts, Square Enix and many others.
For more information about OMG and its subsidiaries, visit http://www.omg3d.com, http://www.vicon.com , http://www.vicon.com/boujou, http://www.viconrevue.com , http://www.2d3.com, http://www.yottadcl.com , or http://www.yottamvs.com.
Press Contact
Hayley Roberts
+441865 261 800
###