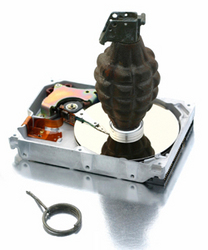 Portland, OR (PRWEB) September 3, 2008
GadgetTrak® a leading innovator of theft recovery and data protection software has launched GadgetTrak® Search & Destroy™ for Windows®, providing the ability to remotely destroy data on stolen laptops. In addition to providing tracking information to recover the device, the software wipes sensitive data on the device complying with the US Department of Defense clearing and sanitizing standard DOD 5220.22-M to ensure that data is thoroughly and irrecoverably destroyed.
A recent study conducted by the Ponemon Institute found that 36% of data breaches were the result of lost and stolen laptops or other mobile devices costing companies $2.6 million dollars per incident. As the workforce becomes more mobile this number is expected to increase. In a separate study the Ponemon Institute found that 12,000 laptops are lost in US airports each week, 70 percent of which will not be recovered.
When a laptop with GadgetTrak® Search & Destroy™ installed is stolen, the owner of the device will automatically receive tracking information as the device changes location. The owner can securely enable remote data destruction, once activated an email is sent to the owner once the data wipe is verified. All personal information including documents, emails, application settings, cookies, passwords, photos and other information are wiped from the system.
"Every day we hear about laptops being stolen with sensitive information. For our corporate, government and health care customers the cost of a laptop being stolen is not the value of equipment, but the risks associated with data on the device, especially when customer and patient records are involved. Not only can we now track and recover the device revealing the thief's identity and device location, but also ensure that any data on the device is not compromised" stated GadgetTrak® Founder and CTO Ken Westin.
GadgetTrak® Search & Destroy™ works with Windows® 2000, NT, XP, 2003 and Vista. The software is designed to work in hostile network environments, is hidden on the system, tamper proof and cannot be removed without an administrative password. For more information about GadgetTrak® Search & Destroy™ visit http://www.gadgettrak.com.
About GadgetTrak:
Based in Portland, Oregon GadgetTrak® provides patent-pending and innovative anti-theft and data protection solutions for mobile devices including laptops, mobile phones, portable storage and media devices.
###