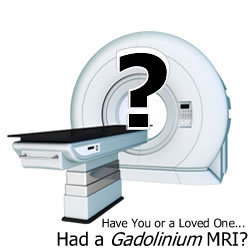 We are pleased to be at the forefront of this litigation on behalf of those whose lives, and whose families' lives, have been devastated by nephrogenic systemic fibrosis
Cleveland, Ohio (PRWEB) March 25, 2009
Since February 2008, Federal Court litigation involving gadolinium MRI contrast agent side effects and nephrogenic systemic fibrosis (NSF) has been consolidated before Judge Dan Polster in the United States District Court for the Northern District of Ohio, Eastern Division. During this time, Spangenberg, Shibley & Liber gadolinium lawyers Peter J. Brodhead and William Hawal have been serving as Liaison Counsel for the Plaintiffs' Steering Committee and have taken the deposition testimony of several key witnesses. On March 6, 2009, Judge Polster announced that beginning on January 15, 2010, he will hold a series of four consecutive gadolinium lawsuit trials.
Federal Court trials of gadolinium MRI contrast agent cases involving nephrogenic systemic fibrosis (NSF) will commence in early January, 2010 before United States District Court Judge Dan Aaron Polster in Cleveland, Ohio. Judge Polster has been presiding over all of the consolidated Federal Court gadolinium NSF cases from across the country since he was appointed as the MultiDistrict Litigation (MDL No. 1909) Judge for these cases in February, 2008. Currently, there are about 420 gadolinium NSF cases pending in his Court. Judge Polster has announced that he will conduct four trials in the first half of 2010 (Jan. 15, March 1, April 15, and June 1). (Ref: United States District Court, Northern District of Ohio, Eastern Division - MDL No. 1909, Case No. 1:08 GD 5000)
Spangenberg, Shibley & Liber lawyers Peter J. Brodhead and William Hawal have been appointed by the Court to serve as Plaintiffs' Liaison Counsel, a role that serves to provide communication between the Court and other Plaintiffs' counsel, to advise parties of developments, and to assist in the coordination of case-related activities and scheduling. In addition, both Peter Brodhead and William Hawal have already cross-examined several key defense witnesses in their deposition testimony. They also will be actively involved in the upcoming trials.
"We are pleased to be at the forefront of this litigation on behalf of those whose lives, and whose families' lives, have been devastated by nephrogenic systemic fibrosis," says Peter J. Brodhead. "NSF is a man-made disease caused by certain gadolinium MRI contrast agents, and we intend to prove it." There already is consensus in the scientific literature that NSF most likely is caused by the release of highly toxic gadolinium from some MRI contrast agents. In renal failure patients the contrast agent stays in the body for a much longer period because of slower excretion. "There was a well-known and much safer way to make contrast agents so they would not release gadolinium", said Brodhead. "Some companies used the safer design, and others didn't. This litigation is about the gadolinium MRI contrast agent makers that were not careful."
Spangenberg, Shibley & Liber represents individuals and families from across the country who have been afflicted with NSF. Also called nephrogenic fibrosing dermopathy (NFD), this condition typically presents with hardened 'woody' skin, contracture of joints such as ankles, knees, hips, elbows, wrists, and fingers, bone pain, muscle weakness, and high degrees of unrelieved pain. NSF is a progressive and incurable condition, and can be fatal. The same fibrosis that has been found to invade the skin and muscles has also been found in several internal organs, including the heart and lungs.
NSF / Gadolinium and other Cases Handled by Spangenberg, Shibley & Liber LLP:
Spangenberg, Shibley & Liber LLP is one of the top Cleveland law firms that manage cases of wrongful death, personal injury, medical malpractice, negligence, and injuries to individuals and classes of consumers involving defective drugs, medical devices and other consumer products. The Ohio law firm also manages business disputes and prosecutes insurance claims on behalf of businesses and individuals. For more than sixty years, the Spangenberg attorneys have devoted themselves to representing injured persons and aggrieved businesses. Spangenberg, Shibley & Liber LLP is headquartered in Cleveland, Ohio, at 1900 East Ninth Street, Suite 2400. For more information, visit Spanglaw.com.
Renee Latkovic - Public Relations Director
Spangenberg, Shibley & Liber LLP
1900 East Ninth Street, Suite 2400
Cleveland, Ohio 44114
Call Toll Free: (877) 696-3303
Local: (216) 696-3232
Fax: (216) 696-3924
###