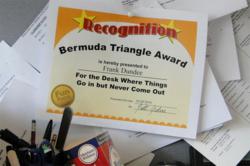 Funny Employee Awards: Your Complete Guide to Organizing a Humorous, Entertaining, and Rewarding Recognition Ceremony
Durham, NC (PRWEB) December 02, 2008
Looking for ways to liven up your office Christmas party this holiday and keep costs down? Comedian Larry Weaver's new book has expert advice. "Funny Employee Awards: Your Complete Guide to Organizing a Humorous, Entertaining, and Rewarding Recognition Ceremony," includes 101 funny employee awards that will make everyone laugh.
Human resources may not have reasons to smile right now. Businesses are struggling and as a result, some have decided it's not worth it to have a party this year. A national survey by Battalia Winston Amrop Hever said almost 20% of companies are canceling their holiday parties because of the economy. That's the highest number in the survey's 20 year history.
HR and others may find they're not in the mood to celebrate. Money spent on elaborate food or decorations could be spent on necessities. Staff may prefer to get cash rather than attend a party. But an upbeat holiday party can help unify staff and ease some of the stress employees may be feeling.
When companies cancel the party it sends a message that can make matters worse. "When staff gets a company email saying the party is canceled, the first thing they think is that things must be pretty bad. It confirms their fears about job security. Your top performers may start sending out resumes. Keep the party. Find other ways to cut costs," advises Weaver.
Companies are cutting costs in many ways. Here are some tips:

Ask staff to pitch in and bring food.
Trim down the guest list by only inviting employees.
Cut the alcohol. According to the survey 29% of businesses surveyed aren't paying for alcohol this year, and 44% are switching from dinner to lunch.
Show appreciation for staff as part of the entertainment with funny certificates.
Cutting costs is understandable, but companies should remember not to cut their sense of humor. It's something we all need right now. As a corporate comedian Weaver has come up with ways to entertain and lighten the mood.
"Give out staff awards to help recognize and reward your staff's contributions throughout the year. Funny employee awards are HR-friendly and can be printed, framed and presented to employees to capture their strengths and encourage them to improve in other areas," said Weaver.
The book can be downloaded and HR can get information on how to organize a successful awards ceremony. Rather than looking like the bad guys, HR can come away smiling as they see employees enjoying themselves.
About Larry Weaver:
Larry Weaver is a professional comedian and creator of the Funny Office Awards Show: the company party where your employees are the stars. With nearly 20 years as both a corporate comedian and office worker, Larry brings a unique and refreshing perspective to workplace humor. His Funny Awards blog has free funny award ideas and stories from successful office parties around the world.
To see samples of funny office awards or to order the certificates, visit http://www.funawards.com/
###