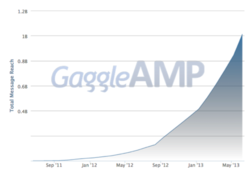 GaggleAMP's growth has been phenomenal and has followed the rapid adoption of social media as part of the corporate marketing mix.
Cambridge, Mass. (PRWEB) June 26, 2013
As businesses continue to invest in content marketing programs to drive visibility, many look to ways to reach larger audiences with their messages. GaggleAMP, a Boston-area company offering a cloud service that helps marketers extend the life of and expand the online reach of its social media messages, passed a major milestone today as it continues to roll out new innovative services.
A message shared by a Gaggle Member yesterday brought the total message reach of GaggleAMP to over one billion, marking the continued rapid growth and adoption of GaggleAMP. A Gaggle is a group of people established by a company that have opted in to help share the company's social media messages.
The milestone came as the company continued to introduce new innovative features, the latest of which is Gaggle Actions. While GaggleAMP has traditionally enabled the sharing of messages on Facebook, Twitter and LinkedIn, Gaggle Actions expands a company's ability to engage community members by empowering them to participate in online polls and voting, follow Twitter accounts, like Facebook pages, repin a photo on Pinterest, post a message on Google+ and even join another Gaggle.
"GaggleAMP's growth has been phenomenal and has followed the rapid adoption of social media as part of the corporate marketing mix," said GaggleAMP Founder and President Glenn Gaudet. "Our total reach expands as companies continue to add new Gaggles with scores of corporate stakeholders such as employees, partners, resellers and customers. It's a win/win for the company and the Gaggle Member. Joining a Gaggle benefits the company by extending the reach and duration of its messages while the act of sharing messages for the Gaggle Member typically increases the reach and influence of the person sharing the message."
About GaggleAMP
Founded in 2010, and headquartered in Cambridge, Mass., GaggleAMP is the social marketing platform that lets companies amplify their social media reach by mobilizing employees, partners and customers. Using GaggleAMP, companies are able to widely distribute their content and messages while they analyze the results and align their social media resources to where the ROI is. More information is available at http://gaggleamp.com. To follow GaggleAMP on Twitter, visit http://twitter.com/GaggleAMP