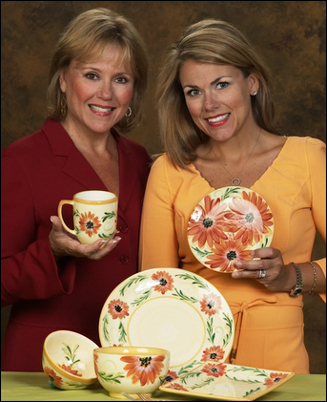 Each piece will be individually stamped and signed, acknowledging its uniqueness and authenticity as our one and only, true Collectors Edition
Ridgeland, MS (PRWEB) August 1, 2006
Gail Pittman, Inc. (GPI), a company featuring premier hand painted pottery dinnerware, today announces the launch of its members-only Gail Pittman Collectors Club.
"My daughter and I are proud and pleased to finally be able to introduce the Collectors Club. It has long been a goal of Natalie and myself to reward what has been and continues to be a very special and loyal customer base. We both feel that the Collectors Club will achieve just that," says Gail Pittman, founder of the premier hand painted pottery company.
Benefits enjoyed by members of the Collectors Club include:
Membership number for exclusive access to club
Introductory pottery gift featuring exclusive pattern
Exclusive opportunity to purchase new collectors' pattern pottery pieces, discontinued patterns and GPI Limited Edition pieces.
10 percent discount on all online purchases
Rewards program
Free shipping within the continental United States
Opportunity to receive bonuses by promoting successful enrollment of new members
The new exclusively designed pottery pattern for Collectors Club members is the "Scarlett" floral design. The dinnerware pieces include various plates, bowls and a mug. New pieces will be added quarterly.
"Each piece will be individually stamped and signed, acknowledging its uniqueness and authenticity as our one and only, true Collectors Edition," Gail says.
To become a member of the Collectors Club, customers must register and be approved by GPI. A membership fee of $130 must be paid before benefits apply. The membership is valid for 12 months and can be continued annually for $50. Members who join before October 1st will pay a discounted membership fee of $99 and will be entered into the drawing for four place settings of the exclusive "Scarlett" pattern valued at $596.
About Gail Pittman, Inc.
Influenced by work from Italy and Portugal, Gail began making ceramic pieces as gifts, then later for sale in 1979. In the early 1980s, she began participating in the Canton, Mississippi, Flea Market where people from all parts of the country buy hand-crafted goods from the artisans there. During most of the early 1980s, Gail produced her craft on the kitchen table at home. The company eventually grew to be too big to continue out of her house. After several years of continued growth and demand, Gail has built her business to employ over 100 people in a newly expanded facility of 50,000 sq. ft.
The Gail Pittman line of hand painted dinnerware and accessories has indeed made a journey. From servicing nearly 450 retail stores across the country to being a visionary within the gift industry, Gail Pittman is truly the brand to hold and cherish.
To view or order hand painted pottery dinnerware, visit http://www.gailpittman.com. For more information about the Gail Pittman Collectors Club, visit http://www.gailpittmanmembers.com.
Contact:
Gail Pittman, Inc.
P.O. Box 779
Ridgeland, MS 39158
Tel 601-856-5646
Fax 601-856-5740
Media Contact:
Lisa Reyes
601.856.5646
# # #