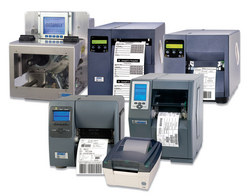 The harsh, wet conditions inside meat and poultry processing plants require a truly rugged printer. Our experience working with a wide range of equipment and brands has shown us that Datamax® printers really have what it takes to work well in those environments, and that's a view shared by our customers, as well
Gainesville, Ga. (Vocus) October 30, 2008
Gainco, Inc. , a leading developer and manufacturer of weighing, sizing, sorting and distributing systems and equipment for the meat and poultry processing industries, announces it has been named an authorized distributor for Datamax® printers and supplies. Datamax Corporation, a Dover company, is a worldwide leader of bar code and RFID products in the automatic identification and data collection field. Datamax® printers are used on many Gainco systems and equipment designed for weighing, sizing, sorting and distributing poultry, red meat and seafood products on the food processing floor.
According to Jim Petersen, Gainco's director of marketing, the decision to become a channel partner with Datamax Corporation was driven by the proven success of Datamax® printers in the food processing environment. "The harsh, wet conditions inside meat and poultry processing plants require a truly rugged printer. Our experience working with a wide range of equipment and brands has shown us that Datamax® printers really have what it takes to work well in those environments, and that's a view shared by our customers, as well," he said.
The comprehensive line of Datamax® printers includes a variety of models specially engineered to withstand the shocks and hard knocks of harsh meat processing environments - including daily high-pressure washdown procedures. Printer offerings range from entry-level units all the way to high-performance models and specialty printer platforms. Equipment can be deployed off-the-shelf or customized with various options to address special user requirements.
In addition to printers, supplies such as labels, tickets and tag materials plus thermal transfer ribbons are also available from Gainco.
Gainco will operate two Datamax® Authorized Service Centers in Ft. Smith, Ark. and Gainesville, Ga. as part of its Blue Ribbon Service business. In addition to carrying fully-stocked printer equipment and parts, its services include a 24/7/365 phone hotline/Help Desk, plus factory-trained field service technicians who are available for onsite visits. Gainco also offers service contracts with flexible provisions to meet any customer need or preference.
Since 1984, Gainco, Inc. has been a leading developer and manufacturer of automated weighing, sizing, sorting and distribution systems for the meat and poultry processing industry - all designed to optimize product yields, throughput and plant profits. Gainco systems and equipment are installed in the facilities of all major U.S. poultry processing companies, as well as in plants outside the United States. In 1999, Gainco became a subsidiary of Bettcher Industries, Inc. Since then, the company's dramatic growth has resulted in relocation to new, larger headquarters facilities in Gainesville, Ga. - a move that was completed in May 2008.
For more information on Gainco's systems and services, contact Jim Petersen, director of marketing, at 770-534-0703 or mailto:jpetersen @ gainco.com.
Contact Info:
Jim Petersen
(770) 534-0703
jpetersen @ gainco.com
# # #