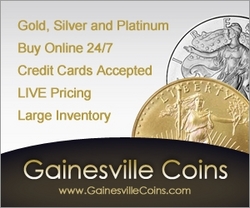 "Our customers are savvy shoppers and we needed a website that accommodated their busy lifestyle."
Tampa, FL (PRWEB) May 7, 2010
Gainesville Coins, Inc., a Five Star rated coin and precious metal dealer, announced the launch of a new design for their online store, GainesvilleCoins.com. Powered by customer usability, the decision for a new website design was the natural next step in enhancing the customer experience.
"Our customers are savvy shoppers and we needed a website that accommodated their busy lifestyle," said Gainesville Coins President Michael Yaffe. "It is important to us that our customers are able to find the exact coin they are looking for swiftly. Magnetic, our web development partner, created an advanced yet easy-to-use search tool and simplified the entire buying process. We feel this goes a long way towards ensuring an enjoyable and successful customer experience for everyone."
Notable differences to the GainesvilleCoins.com site include:

Improved Readability: Through design features, increased font sizes and a simplified organization structure, GainesvilleCoins.com is now easier to read. The site is also more easily navigated through a drop down sub-navigation and footer navigation, allowing customers to use a variety of methods to find the precious metal investment of their choice.
Featured Coins: For modern coin collectors and investors, the new bullion and collector coins on the market offer an exciting chance to increase a collection or portfolio. Gainesville Coins has added a "Featured Products" section to the website to keep these customers up-to-date on the latest opportunities available for purchase. Customers can now choose from the "Deal of the Week", "New Arrivals" and "Top Sellers" categories.
Search Capabilities: Most of Gainesville Coins' customers already know what they are looking for. An improved search feature was essential for the new website. Searches can quickly and easily be performed by country of origin, metal type, weight, coin type, grade or by coin grading service, yielding desired results, faster.
Simplified Checkout Process: Realizing that many times, the otherwise enjoyable experience of shopping online can be marred by a complicated and confusing checkout process, Gainesville Coins elected to simplify the shopping cart experience by making the checkout steps among the easiest to use on the internet. With the use of pre-determined login information, one need only make his or her final selections and hit the "checkout" button.
Spot Prices: GainesvilleCoins.com has always served the numismatic aficionado and bullion investor alike. Recognizing that global spot prices of precious metals are important to both these customers, the company has placed a spot price ticker on the front page of their website. Customers can now stay abreast of Gold, Silver, Platinum, and Palladium prices even as they shop for them.
About Gainesville Coins
One of the largest bullion and modern coin wholesalers in the United States, Gainesville Coins is based in Lutz, Florida. The company sells precious metal bullion and numismatic coins from the US and abroad. Gainesville Coins strives to provide customers with exceptional prices and customer service. The company works with collectors and investors from around the globe, and offers an extensive collection of world, modern, and other bullion and numismatic products. For more information on Gainesville Coins, Inc., please visit GainesvilleCoins.com.
# # #