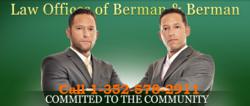 We want the roads to be safer in Gainesville, Florida, today and for all future generations
Gainesville, Florida (PRWEB) June 09, 2013
No texting while driving is now a law in 32 states including Florida. The Berman Law Group knows that this law now makes it illegal to text while driving, and it also prohibits any form of email, or instant messages while driving. The Berman Law Group is announcing a new public service campaign in Gainesville, Florida, in support of this law and in support of safety on the roads and for the community of Gainesville. The Florida injury lawyers at the Berman Law Firm know that even though texting while driving is illegal, it still happens and they want the roads as safe as possible for all Florida residents. The number of people who text while driving increases more and more each year and the Berman Law Group want to focus on educating the community on the dangers of taking this risk in hopes that future generations will be more careful behind the wheel.
Russell Berman is one of the attorneys at the firm, and he had this to say about their new campaign to get drivers to stop texting and driving, "We want the roads to be safer in Gainesville, Florida, today and for all future generations. One of the most dangerous things anyone can do is text or email behind the wheel. Those few seconds can make all the difference when it comes to avoiding a wreck or being in the middle of one. To curb the number of accidents occurring in Gainesville due to texting and driving, our law firm is fully committed to educating and preventing accidents that occur from this dangerous activity."
Texting while driving can increase the risk of accidents by 23 percent. The associates of Berman and Berman recognize that this dangerous habit, still has not stopped despite the dire consequences that can result from such behavior. During our intensive research, The Berman Law Firm has found that in the past year, there have been over 6000 deaths, and 500,000 injuries related to texting while driving. Insurance companies are now raising rates for drivers who have been cited for this offense.
Many drivers do not realize that one unimportant text while driving could cost an innocent person their life. Studies have shown that when drivers text and drive their focus is not on the road before them. In fact, it takes about 4.6 seconds to send a short text, this seemingly small amount of time equates to what it takes a running back to run the length of a football field at 55 miles per hour. The difference however, is that the football player scores a touchdown, while a driver could cause a deadly accident.
No texting while driving is vital to the safety of drivers, passengers, and innocent bystanders. Texting while driving distracts the driver from the road, creating a climate where their reactions are comparable to that of a drunk driver with a blood alcohol level of .08 percent.
Berman and Berman know that now is the time to abide by the no texting while driving law, in Gainesville and the state of Florida. Doing so will save many undue injuries and deaths. It is imperative that drivers realize that trying to multi-task is a dangerous and often fatal habit while driving. Be safe on the roadways; protect drivers, passenger, and innocent bystanders from the dangers of texting while driving.
Being injured in an accident caused by texting while driving is a life changing experience and the Berman Law Firm is here to help ensure all accident victims know how to cope with the situation at hand. Contact the Gainesville, Florida injury lawyers at the Berman Law Firm today at 1 (877) 529-8995 or visit their website at http://lawyerinjuryaccident.com/. They are available 24 hours a day via email, phone, or live chat on their website.