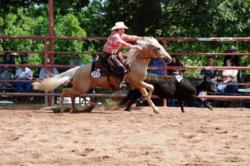 They've done a great job with my horses, so I wanted to bring them to Texas.
Austin, Texas (PRWEB) March 05, 2012
Jenny and Tony Vaught will teach natural horsemanship for gaited horses March 10-11 at Rusty's Walnut Creek Arena in Cedar Creek, Texas, near Austin. The Vaughts, http://www.forthehorse.org, are former Parelli instructors and winners of multiple National Ranch Horse Versatility Association and Missouri Fox Trotting Horse Breed Association championships. For details, contact Karen Affeld, Mikarma Farm, http://www.mikarmafarm.com, at 512-484-2915, or email karen(at)mikarmafarm(dot)com.
Clinic attendees will learn natural horsemanship methods to achieve the optimal smooth gaits with their gaited horse and can work on individual issues such as ground manners, trailer loading and standing to mount. Attendees will also learn the body position, leg aides and weight shifts that help horses move forequarters, hindquarters, sidepass and travel successfully through patterns. The Vaughts will teach direct reining, indirect reining and timing tips to get riders in harmony with their horse's feet.
The gaited horse clinic includes a two-hour workshop on "Hoofcare for Horseowners" with farriers Lyle "Bergy" Bergaleen and his son Caleb. Riders pay $150 per day and auditors $30 per day. Lunch is included for both days. Horse pens, hook-ups, bunkhouse available.
"Last year I went to the Vaught's ranch in Missouri to audit a clinic on cow working and was so impressed that I sent a couple of my young horses to them for training," said Affeld. "They've done a great job with my horses, so I wanted to bring them to Texas."
Fox Trotters have been gaining popularity in Texas and other states as competitive trail mounts, ranch horses, and pleasure horses. Three Fox Trotters made the finals in ACTHA's America's Favorite Trail Horse Competition. A Fox Trotter has been named Horse of the Year by Friends of Sound Horses for three consecutive years.
About the Missouri Fox Trotting Horse Breed Association (MFTHBA)
Fox Trotters originated in Missouri as ranch horses bred for smooth riding gaits as well as stamina for mountain riding and heavy ranch and farm work. They are known for versatile athleticism, the naturally smooth flat walk and fox trot gaits, and an endearing, trainable personality. Since 1948, the MFTHBA has worked to promote the Fox Trotter gaited horse and support a registry for horses that meet the breed standards of gait and conformation. Today there are more than 96,000 registered Fox Trotters worldwide. View a video about Fox Trotters http://bit.ly/xqX7jV.
Media Contacts:
Donna Watson, MFTHBA
417-683-2468
donnawatson(at)mfthba(dot)com
Karen Affeld, Mikarma Farms
512-484-2915
karen(at)mikarmafarm(dot)com
###