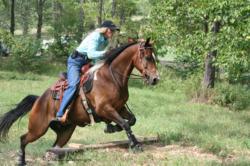 We have a wonderful line-up of gaited horse experts and opportunities to improve your horsemanship.
Ava, Missouri (PRWEB) May 08, 2012
The Missouri Fox Trotting Horse Breed Association(MFTHBA) will host Fox Trot University on May 11, 12 and 13 at the MFTHBA Headquarters and Show Grounds in Ava, Missouri. Events will include a Judges Seminar for new or renewing judges, Rider Clinics (with or without horse) for trail, performance, model and versatility. Trail clinics are co-sponsored by the American Competitive Trail Horse Association(ACTHA) and taught by ACTHA-certified clinicians. For a schedule and fees visit: http://bit.ly/foxtrotuniv .
"We have a wonderful line-up of gaited horse experts and opportunities to improve your horsemanship," said Joyce Graening, President of the MFTHBA. "We're also very excited about the partnership with ACTHA because many of our members ride in ACTHA events and Fox Trotters are competing very well in trail horse competitions."
Clinicians include: Clifton Matlock teaching Performance, Sonny and Sharon Nelson teaching Versatility, Cecil Huff (ACTHA-approved) and Julie Moore (ACTHA-approved) teaching Competitive Trail. The MFTHBA has the only ACTHA approved practice course in the United States.
Fox Trotters have been gaining popularity as competitive trail mounts, ranch horses, and pleasure horses. Most notably, Mitt Romney, contender for the U.S. Presidency, recently praised his Fox Trotter in comments to Sean Hannity. Three Fox Trotters made the finals in ACTHA's America's Favorite Trail Horse Competition. A Fox Trotter has been named Horse of the Year by Friends of Sound Horses for three consecutive years.
About the Missouri Fox Trotting Horse Breed Association (MFTHBA)
Fox Trotters originated in Missouri as ranch horses bred for smooth riding gaits as well as stamina for mountain riding and heavy ranch and farm work. They are known for versatile athleticism, the naturally smooth flat walk and fox trot gaits, and an endearing, trainable personality. Since 1948, the MFTHBA has worked to promote the Fox Trotter gaited horse and support a registry for horses that meet the breed standards of gait and conformation. Today there are more than 96,000 registered Fox Trotters worldwide. Visit http://www.mfthba.com .
Media Contacts:
Donna Watson, MFTHBA
417-683-2468
donnawatson (at) mfthba (dot) com