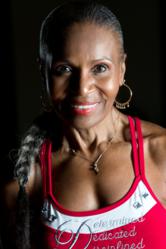 Gaithersburg, Maryland (PRWEB) September 13, 2012
Gaithersburg photographer Ryan Shapiro created images of Ernestine Shepherd for the latest annual book release of Ripley's Believe It or Not! for being the world's oldest female competitive bodybuilder.
Ryan Shapiro is a professional freelance photographer whose work is quickly gaining popularity among Maryland families, business CEO's such as Dr. Liz Berney, Ph.D and editorial magazines such as Esperanza and Life Health Pro.
Ryan works closely with business corporations, public relations firms and ad agencies in the Mid-Atlantic area as well as, wire services such as Everett Collection and World Entertainment News Network, producing/creating high-quality editorial photography and portraits.
Ryan is also available for professional headshots, baby portraits and business/private events. Review some of Shapiro's images and learn more about him at http://www.digitalfotopro.com .
About Ripley's Believe It or Not!
The Ripley collection includes 20,000 photographs, 30,000 artifacts and more than 100,000 cartoon panels. With 80-plus attractions, the Orlando-based Ripley Entertainment, Inc., a division of the Jim Pattison Group, is a global company with an annual attendance of more than 12 million guests. Ripley Entertainment's publishing and broadcast divisions oversee numerous projects, including the syndicated TV series, the newspaper cartoon panel, books, posters and games.
About Scholastic Inc.
Scholastic Inc. is a global book publishing company known for publishing educational materials for schools, teachers, and parents, and selling and distributing them by mail order and via book clubs and book fairs. It also has the exclusive United States publishing rights to both the Harry Potter and The Hunger Games book series. Scholastic Inc. is the world's largest publisher and distributor of children's books.
###