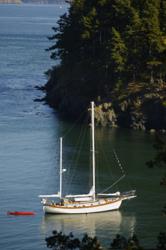 Fabric applications are one of the most important aspects of protecting and enjoying your boat.
Glen Raven, NC (PRWEB) July 16, 2011
Glen Raven Custom Fabrics, makers of Sunbrella® fabrics, has launched a marine makeover project designed to provide insights into the step-by-step process for transforming a boat's interior and exterior through the use of marine fabrics. Boaters and marine professionals are encouraged to follow the progress on a dedicated blog - http://galatea.sunbrella.com – that provides access to photography, video and DIY tips.
"Fabric applications are one of the most important aspects of protecting and enjoying your boat," said Gina Wicker, design and creative director for Sunbrella fabrics. "This project is unlocking many of the secrets to best practices for exterior and interior fabric use."
The subject of the makeover is the Galatea, a 43-foot Hans Christian sailboat owned by internationally-known photographer Steve Mason. The boat is located in Olympia, Wash., and is frequently used in Mason's photography work, including photo shoots for Eddie Bauer, Columbia Sportswear and Getty Images. Mason is a lifelong sailor who spends warmer months sailing the San Juan Islands, Caribbean and Canada.
Mason and his wife, Teri, purchased the Galatea in 2003 after years of sailing with friends, chartering boats and keeping a mental checklist of the qualities they would want in their own boat. The Galatea was built in 1980 and spent most of its life on the Columbia River outside of Portland, Ore, which helped preserve the boat's exterior. The Masons often host friends and family for sailing adventures.
"As a truly classic sailboat that is heavily used, we have worked hard over the years to care for the Galatea," Mason said. "Our Sunbrella fabrics project will allow us to retain the classic style while updating its functionality."
The Galatea makeover is a multi-platform project that includes video and photography documentary, a progressive blog as well as Facebook and Twitter updates. Mason serves as the voice of the project with additional posts and input from fabricators working on the boat. The entire makeover will be documented in multiple webisodes to appear on the Galatea blog beginning in mid-August.
Providing exterior fabrication for the project is Jason Iverson, owner of Olympia-based Iverson's Design, who uses proprietary technology for the dodgers and biminis he creates. The Galatea's canvas work will showcase Silica Sesame, one of the newest marine fabrics from Sunbrella featuring a textured construction. Iverson's Design is well-known for canvas work throughout Washington, Oregon and California and regularly receives awards from the Industrial Fabrics Association International.
Pam Tregoning of Portage Canvas & Upholstery is responsible for the interior makeover of the Galatea, including the replacement of the original green velvet upholstery. Tregoning's shop is located on Vashon Island, Wash., where she and her husband live aboard. She is working with Mason and the Sunbrella design team to select a new color palette for the interior, refabricating the main salon and berth cushions, accent pillows, bedding and cockpit seating.
About Sunbrella
Celebrating 50 years of innovation in 2011, the Sunbrella brand revolutionized the way the world thinks of beautiful performance fabrics with its entrance to the marketplace in 1961. Today, durable, easy-care Sunbrella fabrics are available in thousands of sophisticated styles, patterns and colors for wherever people live, work and play. On the Web at sunbrella.com. Follow Sunbrella fabrics on Facebook at facebook.com/sunbrella and on Twitter at twitter.com/sunbrella.
# # #